Building goes from casket factory to senior housing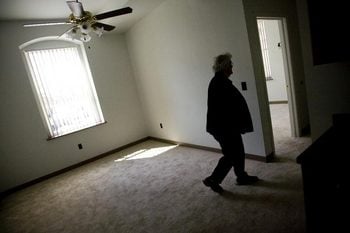 Forget the economy. Never mind the lousy neighborhood. Developer Mario Plante saw an opportunity and grabbed it.
It was 2005 when Plante's son, Marco, told him the old Batesville Casket Co. factory at 57 Palm St. in Nashua was up for sale after the company had pulled out of the city. Father and son then hatched a plan for Palm Square, a rental housing complex for people 55 and older that is now open for business.
"It was perfect for housing," Plante said. "I saw it and I knew I was it perfect for housing. There was nothing left to do there except create the housing."
In 2006, they gained the needed approvals from the city and got busy almost immediately, according to Agatha Gagne, a rental agent at Palm Square. Plante's wife, Denyse, got involved with the project, along with their daughters, Jeannie and Christine.
Hampshire First Bank liked the idea and agreed to finance the project, said Jay Dinkle, director of community banking and lending.
"I think it was the unique concept of it all that influenced us" Dinkle said.
Denyse Plante said the bank and Community Development Director Kathy Hersh backed the project as well because it had the potential to dramatically improve a neighborhood that had a reputation as a haven for gangs and drug dealers.
"We were stepping in and enhancing what we could and just making everything nicer," Denyse Plante said.
So, while the economy scorched other projects, the Plantes weren't fiddling. Rather, they were turning a 110-year-old, 159,000-sqaure-foot casket factory into quality housing for the elderly at a decent cost.
During an open house Sunday, the Plantes said the apartments run from $650 a month for a studio to $1,250 for a two-bedroom unit. Twenty percent of the units will go to lower-income tenants. But it's the amenities, including a 12,000-sqaure-foot atrium, that really sell the place.
The atrium, which was Marco's brainchild, features dozens of species of tropical plants from throughout the world. There is a public restaurant called the Estabrook Grill, named for the shoemakers who constructed the building in 1886, which is run by a chef with 20 years of experience at Martha's Exchange. The menu is mostly American fare, but there are a few Canadian dishes offered as well, to keep the owners happy.
There is private dining room for residents. There is also a full bar, with a cooler that regulates temperatures so that beer will be served at exactly 32 degrees. There will also be a convenience store within the restaurant.
There is a billiards room and shuffleboard court upstairs. There are laundry facilities downstairs. Soon there will be a beauty shop and barber. For security, there are guards, surveillance cameras and separate entrances for tenants. In the future, there may be medical facilities within the building as well, the Plantes said.
The staff started taking applications in February and so far about two-dozen apartments have been rented, Mario Plante said. He expects to have a 60-percent occupancy rate by the summer, he said.
Sue Greenleaf and her husband moved in about two weeks ago and couldn't be happier with the place.
"You can't beat it," she said. "It's gorgeous, they treat you like family and everything you want is right here."