Budget writers spare court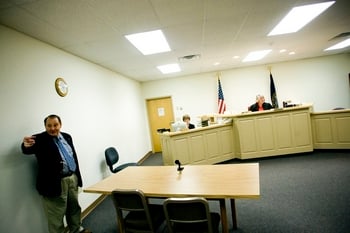 CONCORD – House budget writers extended lifelines to Milford District Court, E-ZPass customers, at least 65 state workers slated to be laid off as well as city and town budgets with proposed changes made Monday night to the two-year state budget plan of Gov. John Lynch.
But those buying gasoline, registering a boat or fishing in the sea would all pay more with the House changes, and all current public employees starting July 1 would have to fork more of their paychecks to finance their pensions.
The state Liquor Commission got the authority Lynch wanted to close up to 16 less profitable stores but in their place it could only open three, privately run agency stores over the next two years. The commission wanted unfettered power to open as many agency stores as it chose.
The commission asked for, but didn't get, the power to sell beer in state liquor stores or let selected private retail locations sell liquor.
Under the House budget proposal, a state medium-security prison in Laconia would close later this summer as Lynch requested.
"No one will be exempt from feeling pain. This is a very, very serious and difficult series of decisions we have made," said state Rep. Marjorie Smith, D-Durham, chairwoman of the House Finance Committee.
Like Lynch's budget, the House proposal relies on more than $500 million in one-time money. This includes more than $400 million in federal stimulus grants and $110 million out of surplus held by a joint underwriting authority that gives malpractice and liability insurance to doctors and some health-care providers.
House Republicans on the panel failed to cut spending $324 million across the board and failed to get an additional 13 percent cut next year and 14 percent in 2011 to avoid higher and new taxes.
Rep. Neal Kurk, R-Weare, said this cut and others the GOP offered would pre-empt the need to raise existing state taxes on cigarettes, meals and hotel room rentals or to adopt new taxes on capital gains investments and estates proposed by the House.
Meanwhile, the biggest unknown was what will become of $83 million in state payments to local school construction projects over the next two years.
The Democratically led House Finance Committee turned aside a Republican bid to pay for that out of the state budget after a different policy group Monday rejected Lynch's request to issue state-backed bonds to make those payments.
House Public Works and Highways Committee leaders said bonding school building aid would gobble up 60 percent of a two-year budget for public works projects.
"I would be uncomfortable for this committee to make a policy decision not to fund building aid," Kurk said.
Smith pointed out that school building aid law gives the state the option to meet all or none of past state aid payments.
"We are in conformity with existing state law at whatever level we choose or choose not to fund building aid," she responded.
House budget writers initially wrapped up two-thirds of the budget document. Left until today is review of the Health and Human Services Department that consumes nearly half of the $11 billion spending plan.
The group is expected to restore some cuts Lynch made to human services including a popular catastrophic illness program that makes payments to 1,000 residents suffering from chronic diseases such as cancer.
Any spending item in the massive document is subject to change by House budget writers until they complete recommendations later this week.
Lynch proposed closing nine district courts. Two in that targeted group in Durham and Hillsborough were already being shut down.
The House budget proposal would close an additional three courts in Plaistow, Keene and New London, spare Hooksett District Court of closure and study for a year whether to close courts in Milford, Colebrook and Claremont.
Rep. Peter Leishman, D-Peterborough, said if they were closed, the three studied courts would force police, witnesses and defendants to travel long distances.
Milford court users would travel to Merrimack District Court if that closure went through.
"We heard loud and clear from law enforcement about the impact this would have," Leishman said.
House budget writers gave a thumbs-down to Lynch's bid to eliminate a 30 percent discount that E-ZPass users get from turnpike toll rates and replace that with a monthly, $30 cap. Under the cap, a typical motorist would pay the full toll rate to go through 40 tollbooths a month but pay nothing after that point.
House budget writers followed an earlier House vote to embrace a 15-cent-a-gallon increase in the gasoline tax over three years and the same increase over nine years for trucks and other diesel fuel users.
This move turned aside Lynch's other alternatives to raise by $10 the annual registration fee for cars and light trucks.
House budget writers also forego in the House budget the need to have turnpike systemwide toll increases to finance both a complex merger of turnpikes with federal interstate highway stretches and open-road tolling that allows E-ZPass users to drive at the speed limit past turnpike tollbooths.
Lynch's budget would lay off up to 300 state workers, but House budget writers restored 21 correction officer jobs in the prison system and 45 social workers at the Tobey School in Concord for troubled juveniles.
The House budget would keep the Tobey School open for another year and study whether its future closure or merger with other state programs made sense.
As expected, the House budget plan axed a plan Lynch himself abandoned last month to cut $117 million in local aid to cities and towns the state shares from its room and meals tax.
The House budget and Lynch both would eliminate for two years $50 million in revenue-sharing payments to communities.
On pension costs, House budget writers trimmed the current 35 percent state share for municipal and county retirement to 30 percent in 2010 and 25 percent in 2011 in the House budget plan.
Lynch wanted to trim it to 30 percent for each of the next two years.
"We are actually downshifting to cities and towns so we can protect the citizens of the state," Leishman admitted.
But the proposed House budget would force all public employees to contribute more to their pensions – 7 percent for state, municipal workers and teachers instead 5 percent and 11 percent for police officers and firefighters instead of 9.3 percent.
Leishman said this would increase pension payments of all who work for cities, towns and counties by $75 million over the next two years.
Judy Silva with the New Hampshire Municipal Association said this could lower retirement payments that public employers must make into the system by $61 million over the same period.
"This is a lot better than we were looking at with the governor's budget. With all the hard work this committee has done, we still will be in the red compared to the present day," Silva said.
David Lang, chief executive with the largest union of local firefighters in the state, vowed to fight the employee contribution change and questioned if it was legal.
"This is a fine statement to the hard-working men and women on the front lines for communities every day," Lang said.
But Kurk noted state employees got a 5.5 percent pay raise Jan. 1 and will be asked to contribute only 2 percent of it to their future pensions.
Both Lynch and House budgets ask current retirees to pay more, those between age 60 and 65 would, for the first time, pay up to $1,200 a year in premiums for their own health care, $2,400 more if their spouse is also covered.
Health insurance for all retirees would convert to the same plan existing state workers receive and that means managed care and higher co-pays for prescription drugs.
The House budget would cap out-of-pocket prescription costs for retirees at $500 a year, $1,000 for a couple.
Administrative Services Commissioner Linda Hodgdon said 1,600 of the 10,000 state employee retirees would reach those limits and pay no more for prescription drugs.
The House budget plan also includes an increase in fees to register a small boat from $18.50 currently to $31 next year. The fee increase would go away in six years without further legislative action.
Anyone fishing in saltwater would have to buy a new annual license for $15 starting Jan. 1, 2011.
The House budget restored some of Lynch's cuts to local arts programs. The budget Lynch proposed would lay off half the state's eight-person staff.
The University System of New Hampshire would get $3 million more in state aid than Lynch requested. House budget writers said that's necessary to leverage the maximum, federal stimulus money for the state.
The House plan would also relieve the state's three racetracks of having to stage live races and let them rely solely on simulcast bets placed on races at other tracks across the country.
Only Rockingham Park in Salem has committed to live horse racing for the next year, Leishman added.