Budget cuts, red tape a struggle for cancer patient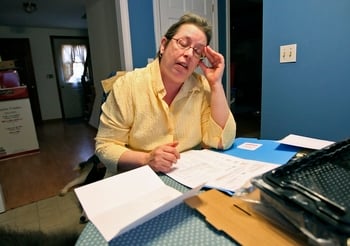 JoAnn Young was running on empty. While undergoing treatment for an aggressive case of breast cancer last June, the Merrimack resident was released from her manufacturing job, which meant she lost her health insurance. She filed for bankruptcy, knowing she'd never be able to pay for treatment out of pocket. Then she applied for Medicaid and waited.
By mid-summer, Young's finances were draining. She was physically sapped. Her emotions were exhausted.
Then, she learned about the state's catastrophic illness program, which supplies grants of up to $2,500 to low-income people with certain severe diagnoses.
Young, 50, applied and received a grant that paid for her temporary health insurance premiums, which in turn covered $125,000 of her medical bills between July and November.
"It's like pennies from heaven for people," said Young, speaking from her sister's house in Merrimack on Thursday.
So when Gov. John Lynch proposed cutting the $1.2 million catastrophic illness program earlier this year, as part of sweeping cuts to balance the state budget, Young was incensed – and not just for her own circumstances, but for the many other people who need help.
"I was really upset," Young said. "I thought, 'How are people going to survive?' They're putting a price on someone's life."
Just this week, the House finance committee voted to return that money to the budget. So it's safe – for now. The program still needs to hurdle the Senate and a committee of conference.
Nancy Rollins, associate commissioner of the New Hampshire Department of Health and Human Services, said the initial decision to cut the funding was difficult because it affected people in "pretty dire straits."
However, Rollins added, the program covers people with just six types of illness: cancer, hemophilia, end-stage kidney disease, serious spinal cord injuries, cystic fibrosis and multiple sclerosis.
In short, she said, the rationale for cutting the program came down to fairness and equity, especially given the state's limited pool of general funds.
"Please: I understand these are important funds to the consumer, and it's not like we didn't know this was going to painful, but the whole budget process has been quite painful," Rollins said.
She added that state officials thought many of the catastrophic illness program's 1,000 or so recipients could receive help through other programs, including Medicaid.
That's just where Young ran into trouble.
Six months after she applied, Young was denied. She said she was told that while her condition was severe, she wouldn't qualify until she was "totally disabled" for 48 months.
Young has filed an appeal, which she hopes will cover her $40,000 in unpaid medical bills. But she said she is disenchanted with how long the process is taking – her appeal hearing isn't for another month, when her denial was in December – and the amount of repetitive paperwork she's had to file
"It's been more work than I can possibly imagine, when I'm trying to recuperate," Young said. "I should be concentrating on getting healthy. I think I'm a dossier sitting on someone's desk."
Since her catastrophic funding ran out, Young has tapped all her savings, closing her bank account in November. She cashed in her 401K. She's even sold clothes and other small possessions consignment shops and on Craigslist.
"I'm falling through these cracks and I'm pretty upset," Young said. "I've worked my whole life, paying into the system, for Medicare and social security . . . I've done all the right things. But I got cancer at the wrong time."
Rollins acknowledged that applying for benefits with the state can be "inefficient and burdensome," but the department is working to reverse that through the ACCES Front Door Project, which aims to streamline the process through staffing solutions and technology.
For example, applicants can now file for help online, Rollins said. In addition, the department is looking to redesign workflow in district offices and is reaching out to local health-care providers to offer more assistance to patients seeking state or federal aid.
Young said she doesn't want to drain the system or be a burden.
In fact, she'd like nothing better than a clean bill of health during a key doctor visit next month so she can get back to work.
"I'm hoping they cured my cancer so I can look beyond this someday," Young said.