Bridge work well under way, access road a ways off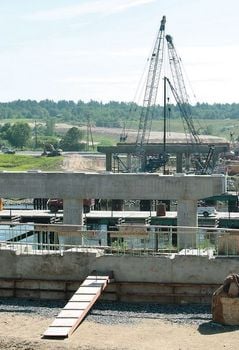 BEDFORD – A new bridge over the Merrimack River is about halfway done, but the multimillion-dollar airport connector road is still five years from completion.
The bridge is an integral part of the $172 million road that will bear drivers from the F.E. Everett Turnpike in Bedford into northwest Londonderry and to the Manchester-Boston Regional Airport.
The road is expected to be a boon to drivers in Nashua, Merrimack and Bedford because it will allow quicker trips to the airport. It should also relieve traffic congestion on Brown Avenue in Manchester, which is already operating at capacity, according Alex Vogt, a state Department of Transportation project manager.
"For most people, it will be a savings of time and congestion," he said. "Especially for
Merrimack, Nashua and Bedford it will be a lot shorter trip to the airport."
The airport is seeing more and more passengers, Vogt said, and experts predict growth will continue, making the connector road all the more important.
"It's an important link to provide efficient access to the airport," Vogt said.
The river bridge is only one of eight phases of the project. The 1,200-foot span will cost about $30 million and will consist of six sections laid atop five piers, three of which will be in or near the river.
Construction began a year ago and is expected to last another year or year-and-a-half, Vogt said, not including the final paving work.
At the same time, extensive work is going on near the Bedford toll plaza. Another bridge is being built there that will loop traffic under the Bedford tolls. That section will eventually extend over Daniel Webster Highway and connect to the river bridge.
Crews have temporarily widened Route 3 in the area to reroute traffic while they complete one-third of the bridge at a time, Vogt said.
That work, which is expected to cost $20 million, will last another year, he said.
A third bridge project, this one to carry traffic over Coos Brook and ravine as it approaches the airport, just began. That project will also take about a year, Vogt said.
Another three or four contracts – to finish a widening of Brown Avenue where the access road intersects it, plus building the connecting ramps, final paving and signage – haven't been issued yet.
The project should be finished in 2013, Vogt said.
Planning for the new road has been in the works in some form for almost 20 years. State legislators first called for a study on better access to the airport in 1989. Public input and discussion on the merits of the project lasted through the 1990s.
It was further delayed in 2003 and the plans altered when it was discovered that the project would disturb bald eagles' nests along the river.
The road is expected to handle traffic for 20 years, according to a 2005 study, Vogt said. But the study envisioned it opening in 2005, meaning if it opens in 2013, it should handle traffic for 12 years.
Vogt said it will probably hold up well beyond then.