Bridge neighbors endorse berm plan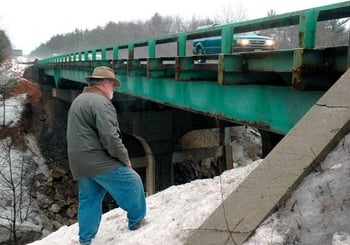 MERRIMACK – Neighbors to a construction project on Merrill's Marauders Bridge endorsed a plan Monday by state transportation officials to cut down on noise there.
Residents in the Hillcrest Drive area, just east of the F.E. Everett Turnpike, had complained that the state's removal of trees and ledge for the bridge renovation project was causing excessive noise on their properties.
State officials on Monday proposed building a 2,000-foot-long, 18-foot-high earthen berm, which is designed to absorb noise. "I was pleased with the reaction of the state and the people who initially complained about the problem were also very satisfied that the state has reacted favorably," said Rep. Peter Batula, R-Merrimack.
The earthen mound may be constructed by the years' end, state officials say.The plan's endorsement prompted Batula to ask a House Public Works Committee to kill a $1.65 million bill for a wooden and concrete sound barrier.