Breathing new life into historic buildings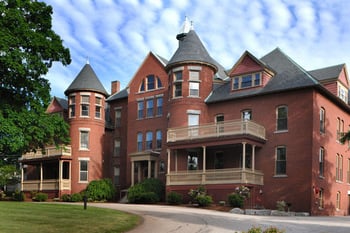 In the current culture of selling new and improved versions of everything from toothpaste to electronics, the debate over buying new rather than restoring old is portrayed as a no-brainer. The construction industry is no exception. Fortunately, there are still those who can appreciate the value and beauty of historic spaces.
While some builders continue to be distracted by new steely structures that accentuate sharp, angular architecture and futuristic facades, a new trend toward refurbishing anciently elegant spaces is making it imperative that construction companies continue to gain experience in bringing old buildings back to life.
There are several ways for an old building to be re-created while still maintaining its historic significance and charm:
• Preservation is the act of maintaining or repairing the space to protect against change. Historic preservation projects generally frown on any improvements or modernization in respect to the building itself or technological aspects. However, the National Trust for Historic Preservation is an important association that encourages the rejuvenation of aging buildings.
• Restoration is generally considered to be an act of bringing the space back to its original state. Whether it be architectural details, design, or if the building is put back to its original use, historic restoration could entail numerous steps. It could mean anything from cleaning or removing layers of paint or even repairing and replacing parts of the building. (It is acceptable, however, to introduce new climate control systems, such as heating and cooling units that are up-to-date.)
• Renovation of an historical space is quite a different process. In this situation, the historical space is used as the backbone of the project, while any additions would be modern and commonly luxurious. Renovation is a widespread tactic when working with older spaces. Honoring the true beauty of an old space and emphasizing its historic elements are essential in a renovation project.
Another important step in the revitalization process is gaining an understanding of historical building codes, which were developed to provide a mainframe of guidelines to adhere to when tackling a revitalization project.
Federal, state and local codes are a tangled web of approvals, waivers and restrictions that could send a project straight back to the drawing board. Items to consider that may impede progress include zoning, parking, water and sewer capacity, fire sprinkler systems, asbestos removal, snow loads, handicapped accessibility, and elevator requirements. Managing progress around these codes can be a complex task, and it remains essential to employ members of the staff who understand all levels of the codes, from federal to local.
Although each step taken in a historic revitalization process seems intricate, the result is beneficial to all members of the community. Most important to acknowledge is that both federal and state governments provide tax credits to owners of buildings that have been revitalized.
The National Parks Service, one resource for tax credit information, directs traffic to individual state services as well.
Any homeowner, business owner, or construction professional can benefit from realizing the beauty in older properties. Whether putting a property through a preservation, restoration, reconstruction, rehabilitation or renovation project, it is important to appreciate and respect the historic elements of the space.
Historic preservation, restoration and renovation are important for many reasons, and have consequently become a trend in the construction market. It is essential to remember that new doesn't necessarily mean superior, and that old doesn't always indicate ancient. Advertising culture will always revolve around selling a new product to replace an old one, and as a result new buildings will always be constructed. Only those with a true appreciation of history can recognize the value and beauty in an old space, and it is this appreciation that has and will continue to power the preservation, restoration and renovation movement now and in the years to come.
Jerry Kingwill is principal of Cobb Hill Construction Inc., Concord.