Bradley readies attack on Stephens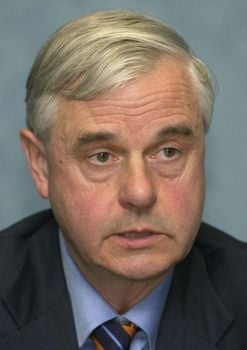 CONCORD – Former Republican congressman Jeb Bradley plans a renewed ad attack, claiming that 1st District GOP primary rival John Stephen's actions as state health commissioner led to soaring local property taxes.
The new ad, debuting today, revives Bradley's claim that Stephen, as commissioner, failed to fully reimburse nursing homes, passing on millions in higher costs to county budgets financed with property taxes.
Those speaking in the ad defending Bradley and criticizing Stephen will be Rep. Fran Wendleboe, R-New Hampton, Belknap County Commissioner Chris Boothby and Lynn Carpenter, administrator of a privately run nursing home from Concord.
"There are very clear and compelling differences between myself and Commissioner Stephen," Bradley said at a news conference Wednesday, where he won the endorsement of four Republicans who ran against Bradley and Stephen and two others in a 2002 primary.
"The most important thing people are going to look at is our records."
Wendleboe defended an earlier Bradley ad that alleged Stephen faced an "ongoing investigation" into nursing home financing under Medicaid that are split between the federal and state governments and county taxpayers.
In August 2006, Wendleboe requested an audit of nursing home billings to the federal government.
"We will then have a clear understanding of what we need to do legislatively to prevent a pass-down of costs to the counties in this area," Wendleboe wrote.
The June 2007 audit concluded that the Medicaid reimbursement system was "nearly incomprehensible"
But Stephen campaign spokesman Greg Moore said that as a state legislator, Bradley voted for the 1998 law that placed a statewide cap on nursing home residents and put in place a rigorous screening of new patients.
Bradley then voted for two state budgets in 2001 and 2003 that contained no increase in state payments to privately run and county-run nursing homes.
"I guess Jeb Bradley thinks if he lies enough times, he will create an echo chamber," Moore said.
"John Stephen carried out the actions of the Legislature that included Jeb Bradley, who voted for two budgets that flat-funded nursing homes. If he doesn't like the arrangement, he should look in the mirror."
Throughout the campaign, Stephen claims he returned more than $130 million of unspent money to the treasury.
Democratic leaders in the Legislature claimed Stephen did not spend what the Legislature directed him to and savings estimates Stephen came up with fell many millions short of the target.
Rep. Al Baldasaro, R-Londonderry, said nursing home costs in his home Rockingham County went up $4 million.
"Anybody who is calling Jeb Bradley a liar needs to regroup and take a look at what is going on," Baldasaro said.
Bradley and Stephen face off in the only televised debate tonight at 8 on WMUR-TV.
The Greater Salem Chamber of Commerce hosted a forum with the two candidates Wednesday night in Hampstead.