Boys & Girls Club unveils plans for center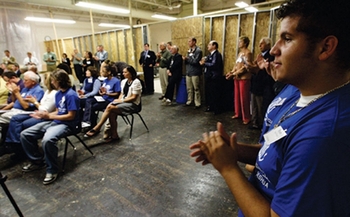 NASHUA – Teenagers make up half of the 4,200 members of the Boys & Girls Club of Greater Nashua, but there's a limited amount of space – a relatively small room – just for them.
That's about to change.
Friday afternoon, plans were unveiled for a $3.2 million construction and renovation project at the club that will not only add a new teen center to the building but will also include a makeover of the entire club.
"It's very exciting, not only for the community but for the kids at the club," said Norm Bouthilette, CEO of the club.
Bouthilette said planning for the new teen center started in 2007 and included more than 300 interviews with teens. Input was taken from those who were attending the club and those were not. One of the most common complaints was there wasn't enough space dedicated specifically to teen members, he said.
"That makes sense," he said. "They wanted a place of their own, a space of their own."
After months of development, the plans were unveiled Friday for what the new 10,000 square foot teen center will look like. The center will include a fitness center, a recording studio, a career and education center, a performing stage and a cafe with a view of the gymnasium.
There will also be more resources available for drug and alcohol prevention, he said.
"More teens will be prepared for adulthood," Bouthilette said.
The teen center will be on the lower level of building, which is where the Academy of Learning of Technology, the district's alternative school, had been located up until this year.
The teen center will have its own entrance on the side of the 47 Grand Ave. building.
Bryan DeLeon, 16, said he's glad to hear about the new teen center. He said he spends a lot of time in the club's teen room, which is only about 1,000 square feet.
"It's like claustrophobic being in there right now," he said.
Devlin Emis-Pena, the Hispanic outreach coordinator for the club, said she's glad to see the club's teens will have a place to call to their own. Some interaction between young and older members is good, but teens are dealing with different issues, she said.
"They've needed this for a long time," said Emis-Pena, 27, who also came to the club as a teen. She is also the dance instructor at the club and said she'll be making use of the new dance studio, as well.
The new teen center is only part of the project. The rest of the building will also be renovated and redesigned, with new office spaces, learning areas and dance and art studios that can be used by members of all ages.
The upper level of the building will have an expanded education center, an updated cafeteria and a multi-purpose room to seat 100 people.
As part of the presentation at Friday's unveiling, there was a "virtual tour" being displayed, which took the viewer through the entire new building using an artist's rendering.
"The project is meant to modernize the whole building," Bouthilette said, referring to it as an "extreme makeover."
Construction on the teen center started about three weeks ago. Bouthilette said the entire project should be completed by June 1. Bouthilette said money for project comes from a number of different sources, including private donors, businesses and foundations.
Bouthilette made a point during his speech to thank Dick and Ellen Stahl, of Hollis, who contributed $250,000 to the club. That donation ended up being the seed money for the project, he said.
Mayor Donnalee Lozeau spoke at the ceremony. She said her two sons attended the club when they were younger and that she was pleased to see people coming together to improve a community resource.
"Community is a better place when we work together," she said.
Designer Wes Bonney, of Team Design, said that 60 percent of the club will have some type of outside view, compared to only 10 percent now. He also said the new building will be more energy efficient.
Bouthilette said the project would allow the club to increase membership by 200 to 300 people and provide more after-school programming, especially for teens.