Board sustains mayor's veto of 5-year contract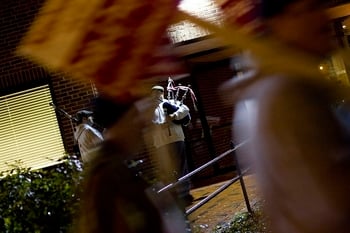 NASHUA – By a comfortable two-vote margin, the board of aldermen Tuesday sustained the mayor's veto of a five-year, $81 million contract with city firefighters.
Eight of the 15 board members voted to override the veto. For a successful override, the support of two-thirds of the board, or 10 votes, was required.
"I'm disappointed," said Tim Soucy, president of Local 789 of the International Association of Firefighters.
Soucy stood with other union members and supporters outside City Hall after the vote. Earlier in the evening, firefighters set up an informational picket line around City Hall, aided by two bagpipers.
The picket line also formed at City Hall during the morning commute.
"Again, our members need to take a look at things and re-evaluate and see where we go from here," Soucy said.
Paul Garant, fire commission chairman, said aldermen who looked at average raises were in error, since 42 firefighters who are covered by the contract were getting the largest percent raises by jumping from a probationary period to a second step."They have to be extracted from calculating the average increases," Garant said.
At the meeting, Mayor Donnalee Lozeau asked aldermen to support her veto, which she issued Oct. 21, a week after aldermen approved the contract by 8-6, with one member absent.
Echoing comments she made in issuing the veto, Lozeau told aldermen that striking down the contract was a tough decision but one she felt was in the best interest of the city.
Last spring, Lozeau vetoed the cost items in a proposed settlement with city teachers. Aldermen then also sustained her veto.
Although $1.2 million was set aside to cover contract costs, the negotiated settlement carried a $650,000 shortfall. Some aldermen have said passing a supplemental appropriation to cover the deficit would mean overriding the city's spending cap.
"I will not override the spending cap," Ward 8 Alderman Paul Chasse Jr. said.
The cap, based on a measure of inflationary rates for the Northeast, restricts increases in city spending to about 3 percent for the current fiscal year.
"How did it even get here?" Chasse said of the contract presented to aldermen. "This never should have come before us if they had to override the cap."
Chasse said he would support a contract that provides fair raises and stays within the spending cap.
Joining Chasse in voting to sustain the mayor's veto were Aldermen-at-Large David Deane and Fred Teeboom and ward Aldermen Mark Cookson, Richard LaRose, Michael Tamposi Jr. and Richard Flynn.
Firefighters had every reason to believe the contract was negotiated in good faith and that the city would only sign off on an agreement that would be funded, Alderman-at-Large Brian McCarthy said.
That the board is now rejecting the contract "ought not ever to happen. I hope that it never happens again," McCarthy said.
Joining McCarthy in voting to override the veto were Aldermen-at-Large Steven Bolton, Ben Clemons and Lori Wilshire and ward Aldermen Marc Plamondon, Michael Tabacsko, Dave MacLaughlin and Jeffrey Cox.
The board also voted to indefinitely postpone the cost items in the failed collective bargaining agreement, meaning that this particular contract can't be brought back to the board.
That leaves negotiating teams for the firefighters and the city to try to hash out a new deal.
The contract for 168 firefighters would have extended retroactively from fiscal year 2007 through fiscal year 2011. For those years, it would have given firefighters average raises of zero percent, 4.70 percent, 5.68 percent, 5.72 percent and 4.69 percent, respectively.
City firefighters have been working for more than two years under the terms of an expired contract.