Board delays review after changes to plan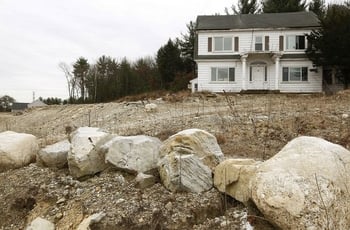 NASHUA – A public hearing scheduled for Tuesday on a proposal to build a major housing project at the site of the former WSMN radio station was postponed.
The city requested the zoning board of adjustment delay discussion by developer John Picard to build at the 502 W. Hollis St. property.
According to Picard's lawyer, John Edwards, of Boston, the developer has revised the plan significantly to try to ease the concerns of neighbors about the density of the so-called "work-force housing" project.
Picard still plans to build the project on the 12.5-acre parcel but has reduced the number of overall proposed housing units from 136 to 108, Edwards said Tuesday night, about an hour before the zoning board's meeting was set to start.
Moreover, Picard now hopes to construct three smaller apartment buildings with about 40 units each instead of two larger buildings with 64 units each, Edwards said.
City planning officials told Edwards the changes were so significant they now considered the plan to be an entirely new proposal, and they needed time to review it more thoroughly before it reaches the zoning board, he said.
"It is not what we wanted; it was what the city wanted," Edwards said. "The city planning department said the changes were so material they couldn't be dealt with Tuesday so they said we must withdraw our application and a file a new one."
It was unclear when the zoning board will consider the new plan, Edwards said.
Picard needs the zoning board to approve several variances to enable the proposal because the site is located in an R-9 zone, meaning only single-family homes can be built there on lots measuring at least 9,000 square feet.
Most residents who live in the neighborhood have been vocal in their criticism of Picard because he has already torn up the property and never finished a 40-unit cluster condominium project on the site. That project was approved by the city four years ago.
Picard's company is now under bankruptcy protection because of the unfinished condo project, and he admits he owes the city $100,000 in back taxes.
He reached an agreement with the city to pay the back taxes, officials said last week. Still, he needs city approval for the work-force housing project to secure financing from the U.S. Housing and Urban Development Department to make the plan a reality, Edwards said.