Blaze damages building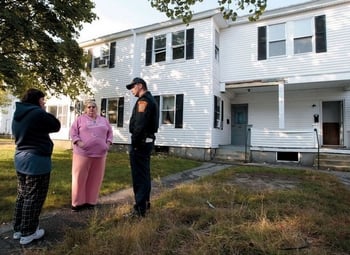 NASHUA – At least six people need temporary shelter after an early-morning fire damaged their apartment house.
A fire that started in the basement of 23 Wilder St. before 4 a.m. Wednesday crippled the four-family unit by disabling wiring and damaging the structure, Fire Rescue Deputy Chief John Allison said.
No one was hurt in the blaze, as firefighters moved quickly to knock it down, Allison said.
Allison estimated six people would need to seek shelter elsewhere until the building is habitable again. Some tenants will stay with family, and at least one tenant was receiving assistance from the Greater Nashua and Souhegan Valley Chapter of the Red Cross, city Fire Marshal Richard Wood said.
A woman who identified herself to Wood as a tenant stopped by the building four hours after the fire. She coughed heavily from what she said was smoke inhalation. She declined to speak to a reporter.
Firefighters received the first call at 3:51 a.m. and found heavy smoke coming from the basement when arriving, Allison said. "We did a rapid fire attack to the rest of the building to make sure," he said. But some fire spread to the first floor through the walls, Allison added.
Wood said the cause of the fire is under investigation.
The building sits on the corner of Kinsley Street and drew the stares of morning commuters, rubbernecking at the sight of a fire rescue vehicle and police car.
The building's basement windows were blown out but otherwise showed no significant exterior damage.