Blast rocks Hudson home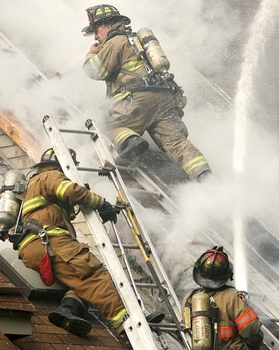 HUDSON – Iris Gaudet was having a stressful but largely normal day. Then early Monday evening, her world was literally rocked.
An explosion shook 10 Dugout Road shortly before 5 p.m. before half the duplex was engulfed in flames. All nine people in the building escaped without injury, according to Hudson Fire Chief Shawn Murray, even though when first responders arrived the fire had spread to all floors.
Iris Gaudet's apartment at 10A, where she lived with her husband, Andres and their three children, suffered heavy smoke damage, Murray said, and the other side, 10B, was completely gutted.
As of Monday night, the Gaudets hadn't been allowed back in the apartment where they've lived for more than a year, and they worried the fire had spread there, too.
"Our kids are crying a lot. We've just lost everything," Iris Gaudet said. "It's just too much. We're in shock."
"I don't know what to think," Andres Gaudet said. "I've never been through anything like this. Everything is in there. We didn't get a chance to do nothing, just run out."
The fire went to two alarms, with crews from Hudson, Windham and Nashua on the scene. The state fire marshal was en route to the scene to assist in the investigation, Murray said.
Iris Gaudet said she first smelled "something weird" Friday afternoon but couldn't find its source. On Monday, a Comcast technician informed her he couldn't work on her apartment because propane was leaking from the side of the building rented by those in 10B, she said.
A nearby Hudson police officer evacuated the buildings, Iris Gaudet said.
Deputy Fire Chief Neil Carter said the department responded to the area earlier Monday for the odor of natural gas and turned off the gas to the building before calling the service company.
Iris Gaudet said Eastern Propane workers arrived and eventually told the families the building was safe, and turned the furnaces back on.
Then shortly before 5 p.m. the living-room windows of 10B blew out and fire started coming up from the cellar, Murray said.
Iris and Andres Gaudet said they ran out of the house when they saw their neighbors run outside, screaming.
"And then we started seeing fire," Iris Gaudet said. "As soon as we got everybody out, it started getting worse. It could have been worse. It could have been really bad."
Murray said investigators are not assuming that a gas leak played a part in the explosion, but it's something they'll consider.
"Certainly, the fact that we were here earlier will be something we look at," he said.
Matthew Whitman, who lives nearby at 12B Dugout Road, was in his driveway playing hacky sack with Hudson resident Seth Fournier and some other friends when they heard a noise from the neighbors' yard.
"I just heard a boom. It wasn't really that loud," Fournier said.
"The windows exploded and there was some smoke and then fire and then a lot of smoke and then a lot of fire," Whitman said.
Andres Gaudet said five people live in the other side of the duplex. Several people were walking around the scene barefoot hugging friends and family members and assuring them they were OK.
The Gaudets were getting ready to bring their sons to a Little League game when the explosion happened. One of the boys only had time to put on one of his baseball cleats before fleeing the apartment.
The buildings are part of Hudson Ridge, a development in a wooded area off Lawrence Road. CPM Management owns the building, Iris Gaudet said.
A CPM agent told her the company would find a place for the family to stay, Iris Gaudet said, and volunteers from the New Hampshire Gateway Chapter of the American Red Cross were on the scene to offer assistance.