Birch Hill holds vets assembly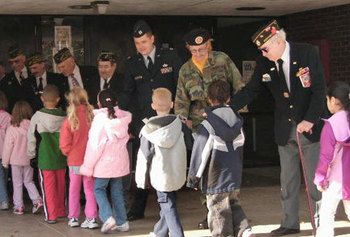 NASHUA – The Birch Hill Elementary School Veterans Day assembly, started by recently retired principal John Richard, is a long-standing school tradition that includes songs and readings by students.
This year's schedule included performances by SCORE, the school's select chorus, and by its second-year band. Some veterans who attended are parents or grandparents of Birch Hill students.
Current Birch Hill principal Mark Lucas said this is his third assembly, but first as principal. He dedicated it to his grandfather, Robert O'Malley, who served in the Army in World War II and was wounded in the Battle of the Bulge.
– DEAN SHALHOUP