Bill would allow cameras at intersections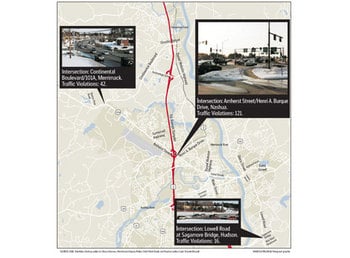 CONCORD – Four years after a similar proposal failed to gain traction in the state Legislature, a group of Bedford lawmakers wants to give New Hampshire cities and towns the authority to put up cameras to catch cars running red lights.
The bill wouldn't require the cameras, nor would it provide any funding for them. It would, however, give communities a legal basis to use them if they choose, said one of the sponsors, Rep. John Graham.
Cities and towns would need to do their own research to decide whether to use cameras and with which vendor they might contract.
"This is just an effort to lay the groundwork," Graham said. "The systems are out there."
The worst intersections
The first hearing on the bill is scheduled for 2:30 p.m. Monday before the Senate Judiciary Committee at the Statehouse.
A similar proposal crashed in the Legislature quickly in 2005, but the current bill is different in many ways:
The 2005 proposal involved cameras aimed at oncoming cars to photograph drivers; the current bill would only allow shooting the rear license plate, and would pin the ticket on the car's owner.
Democrats sponsored the 2005 bill in a Republican-controlled Legislature; now it's the other way around.
The state's Department of Safety supported the first bill; now it's staying out of it, Graham said.
Although red-light violations are common all over, commuter traffic on Route 101 in Bedford helped prompt the proposal, Graham said. Graham and Rep. Ken Hawkins, R-Bedford, joined the lead sponsor, Sen. Sheila Roberge, R-Bedford, in backing the bill.
"Quite frankly, I'm the one that asked for it," Bedford Police Chief David Bailey said last week.
Bailey said he and other town officials have become alarmed at the number of drivers who blow through lights. Motorists know they won't get a ticket if they cross into the intersection when a light is still yellow (a matter of common law, although not an official rule), and most drivers know that most lights have a two-second delay between the red light on one side and the green on the other, Bailey said.
That knowledge has led some drivers to push the limits of safety and common courtesy, he said.
"People are going through that aren't even close," Bailey said. "Everybody's in a rush. Instead of deciding to slow down (on yellow), they hit the gas."
Bedford Police see cameras as a more effective tool than chasing down violators with lights and sirens, Bailey said.
"It's unsafe for us to go after violators, because a lot of times we would have to go through the intersection, too," Bailey said.
Yet if police do nothing, it erodes respect for the rules of the road, he said.
"If we don't enforce these things, then it's OK to do that," he said. "Our enforcement of our laws deteriorates."
While Bailey said the proposal has strong support among town officials, it isn't clear that Bedford would leap to install cameras if the bill passes. The intersections that worry them most are along Route 101, a state-controlled road.
"In my opinion, there's a big problem with 101 in Bedford, especially during the morning and evening commute, when everyone's trying to beat the light," Graham said. "It's an accident waiting to happen."
It's unlikely that the state would be in any hurry to spend money on traffic cameras this year or next, Bailey noted, but authorizing the cameras is a first step.
"If the Legislature doesn't like it, well, that's OK," Bailey said. "We tried . . . for a second time."
The 2005 bill failed in large part because of privacy concerns, Graham said. People weren't keen on the thought of having their picture taken on public roads by automated cameras and then having it sent to police.
According to an April 20, 2005, article in the Christian Science Monitor newspaper, "Mocking laughter from the gallery preceded the measure's demise."
The current proposal addresses that concern by authorizing photos only of the rear license plate, but that, of course, raises another issue: How do police know who was driving?
While Nashua Police officials like the idea of increased traffic enforcement, the bill's solution to that identification problem raises doubt about its constitutionality, Lt. Bruce Hanson said.
"I think outwardly it's not a bad idea," Hanson said. "We don't have enough policemen to put at every intersection, and people are certainly running red lights."
The law appears to turn the central tenet of American criminal justice on its head, however, Hanson said: Vehicle owners are presumed guilty unless they can prove their innocence.
The law states that records showing ownership of a registered vehicle at the time of a violation (caught on camera) "shall constitute a presumption that such person was the person who committed the violation."
Vehicle owners could "rebut" that presumption by showing that the car had been stolen, rented to someone else or by identifying (under oath) the person who was driving the car at the time, the bill states.
"I'm not an attorney, but I don't think you can compel anybody to testify," let alone force drivers to incriminate themselves, Hanson said.
In any criminal case, and even in traffic violations, he said, prosecutors are obliged to prove the case. Defendants need do nothing.
"The burden of proof is on the state," Hanson said. "A big part of any prosecution is identifying the person that you are alleging committed the crime or violation. . . . You've got to physically point them out."
Bailey said he sympathizes with that argument and would prefer cameras that show the driver, but he noted that vehicle owners already can be ticketed in the same way for having an uninspected vehicle or passing a school bus while children are boarding or getting off, regardless of who was driving.
As for privacy, Bailey said, the roads are public places, and besides, "You're just about on a camera everywhere you go these days."
Using cameras also would eliminate any chance that an officer might cut an otherwise exemplary driver some slack, Hanson said, and the $100 fine is actually $18 higher than the standard fine drivers now face if they choose not to contest the ticket (although the potential maximum is $500).
Finally, Hanson said, if the city hired a private company to process the tickets, that company would need access to the state's otherwise private motor-vehicle database. If police were to review the images and issue tickets themselves, that would have its downside, too, he said.
"That could very easily turn into a full-time job, if you have enough of them," Hanson said.
Despite his reservations, Hanson said the concept of using cameras to police intersections is worth considering.
"If the technology exists and you can use it in a cost-effective, legal manner, I think we should probably take advantage of it if we can," he said.
Hudson Capt. Donald Breault hadn't seen the legislation and was unsure of how the logistics would work, but said the idea is a good one.
The department would be interested in "anything we can do to make the roads safer, whether it be putting guys out there or educating people or the cameras that could be reviewed . . . to investigate some of those accidents," Breault said.
The two spots in town that could benefit from cameras, Breault said, would be the Common and Lowell Road near the Sagamore Bridge.
"If we had a couple cameras at each area, we'd be very happy," Breault said.
ONLINE:
Bill to authorize traffic cameras:
www.gencourt.state.nh.us/legislation/2009/SB0113.html
General resource site on traffic cameras
www.photocop.com
National Conference for State Legislatures Automated Traffic Enforcement page:
http://www.ncsl.org/programs/transportation/AutomatedEnforce.htm
Insurance Institute for Highway Safety "red light running" page
www.iihs.org/research/topics/rlr.html
Explanation of how the cameras work:
http://auto.howstuffworks.com/red-light-camera.htm
Anti-camera site:
www.motorists.org/photoenforce