Biden on message in NH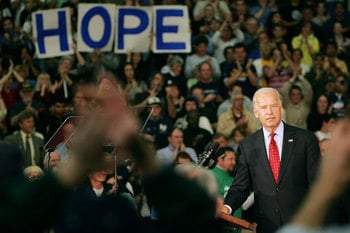 ROCHESTER – Democratic vice presidential candidate Joe Biden told New Hampshire supporters Monday that Republican John McCain's failure to offer economic solutions leaves McCain with little choice but to attack Democrat Barack Obama in the final three weeks of the campaign.
New Hampshire has savvy voters who will see through the rhetoric, Biden added. "If there is any political audience today that is not likely to be distracted by the attacks, it's the people of New Hampshire, that has probably the most sophisticated voters in the country,'' he said.
Recent polls give Obama a solid but not insurmountable lead in the Granite State, whose four electoral votes are seen as critical for McCain to win if he's to complete a comeback.
The Delaware senator offered no new proposals, stayed glued to his teleprompter and rarely strayed from his stump speech before an estimated crowd of about 500 at the Rochester American Legion Post.
"This economic crisis is the final verdict on George Bush's economic policy,'' Biden said. He touted Obama's new proposals, including a moratorium on foreclosures by financial institutions that get some of the federal government's $700 billion bailout.
Biden gave a similar speech in Manchester before leaving the state later in the day.
Republican State Chairman Fergus Cullen pointed out that Biden did not fare well in his two presidential primary campaigns here in 1988 and 2008.
"To be charitable, New Hampshire voters responded to Joe Biden with indifference both times he ran for president here,'' Cullen said.
"Biden dropped out before the New Hampshire primary in both 1988 and 2008 due to a lack of support. But this time New Hampshire voters are interested in learning more about Joe Biden, specifically about why the Obama campaign won't release Biden's earmark requests and why Biden believes that it is 'patriotic' to pay more in taxes."
McCain's running mate, Alaska Gov. Sarah Palin, will make her first visit to the state Wednesday, with rallies planned in Dover, Laconia and Salem.
Biden made only one reference to Palin, about her ambivalence on whether global warming has been caused by human activity.
"To paraphrase her, (she said) maybe, not sure,'' Biden declared. "How are you going to solve global warming when you don't have any heck of an idea what has caused it?''
Biden drew the loudest applause when he reminded the audience of the Democratic ticket's commitment to withdraw combat troops from Iraq within 16 months after taking office.
"To quote the elder president George Bush, ladies and gentlemen, read my lips, we will end this war,'' Biden said. "Enough is enough.''
Susan McAlpin, of Somersworth, introduced Biden after telling her family's story of financial struggle heightened by her husband's job loss and her second child's birth with a developmental disability.
She mocked McCain's plan to offer a $5,000 tax credit while making families pay income taxes on employer-provided health-care coverage.
"A $5,000 health credit would not help us at all, it would be worse,'' McAlpin added. "Under Barack Obama and Joe Biden's plan, insurance will be available for all Americans in all brackets. We are voting for them because they offer a solution for families like ours.''