Benson's finally belongs to Hudson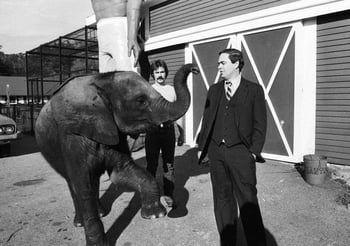 After seven long, grueling years of meetings, discussions, delays and more delays, the 165-acre parcel that once housed the famous Benson's Wild Animal Farm has at last become the property of the town.
Selectman Roger Coutu ended Thursday night's Budget Committee hearing by announcing to the roughly 30 citizens present that the deal, in which the New Hampshire Department of Transportation sold the land to Hudson for $188,000, had been finalized earlier in the day.
"It's official . . . Benson's is ours," Coutu said after the budget hearing, at which the Budget Committee finalized its fiscal year 2010 town operating budget for the Feb. 7 deliberative session. "The deed was recorded in court today."
After roughly 60 years as one of New England's most popular tourist attractions featuring exotic, wild animals, carnival rides, unusual displays, eateries and family picnic areas, Benson's closed in 1987 and the idled property, which borders Central Street and Kimball Hill and Bush Hill roads in what's known as Hudson Center, quickly fell into overgrowth and disrepair.
Negotiations with the state on the sale of the land have gone on since 2001, when a committee of town officials and residents was formed to pursue the preservation and purchase of the property.
Last July, the selectmen agreed to terms of a deed that would see them buy the land for the $188,000 price that was agreed upon in 2002.
Coutu said the committee will now begin focusing on rehabilitating the property into a recreational area that will be open to all residents of New Hampshire. Several buildings will be inspected with hopes of restoring them, the most important of which being the 200-year-old Hazelton barn, which may become a museum housing Benson's historical memorabilia, Coutu added.