Benson's contract dispute leads to review hearing on August 25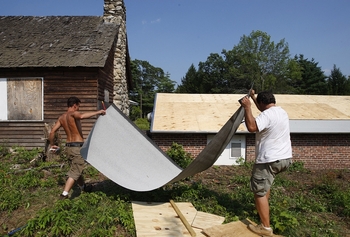 HUDSON – A contract dispute has thrown a wrench into a rehabilitation project at the old Benson's Wild Animal Farm.
Assistant Town Administrator Mark Pearson and Eric Langill, co-owner of KSL Contracting, had a confrontation last week that led to Langill's removal from the property and a major part of the property's revival being put on hold.
Meanwhile, amid Langill's argument that Pearson isn't honoring a promised payment schedule and the town's claim that some of KSL's work has been "substandard," Selectman Ken Massey has been charged with fact-gathering ahead of a board meeting to discuss the issue Aug. 25.
Benson's, a popular amusement and wild animal park, has been closed since 1987. Earlier this year, the town bought the property for $188,000 with the intent of reopening it as a picnic ground and walking area.
This summer, KSL won a bid to complete roofing work on four historic structures: an A-frame building, the gorilla house, the John T. Benson office building and the Hazelton Barn.
The company signed a contract July 14 to do the work for about $97,000. The contract stated that KSL would be paid no more than 15 days after completing work on each building, Langill said, but KSL wanted assurances payment would come "immediately" after each.
The agreement was important, Langill said, because KSL couldn't foot the up-front cost of four projects' worth of equipment, Dumpster rentals and labor.
Eric Langill and his father, KSL co-owner Kevin Langill, said Pearson agreed.
"Mark told us we'd get paid every contract at the end of each building," Kevin Langill said. "He told us that before I signed the contracts . . . He said, 'No problem.' "
Town Administrator Steve Malizia said Pearson was the "point person" between the contractor and the town, and referred comment on the details to him.
Pearson did not return two messages left Monday afternoon.
When KSL completed the A-frame building, the company was paid six days later, Eric Langill said.
The company finished work on the gorilla house two weeks ago, Langill said, but still hadn't been paid as of the middle of last week.
Last Wednesday, Pearson arrived to the site at about 8 a.m., Eric Langill said. Langill said he asked Pearson when the check for the gorilla house work would be arriving, as invoices were turned in to the town Aug. 4.
Pearson said the check would arrive within 15 days, Langill said. Langill said he told Pearson KSL would have to pack up and come back after payment.
Pearson proceeded to "more or less yell" that he didn't "want to be questioned by anyone" before taking off to another area of the property, Eric Langill said.
Eric Langill followed because he "wanted to apologize for any misunderstanding," but Pearson "put a hand in my face and said, 'I have nothing more to say to you.' "
Pearson returned to the KLS site and ordered the contractors to pack up, telling Kevin Langill they could speak in his office, according to Eric Langill.
The crew returned to work Friday anyway.
That morning, Pearson pulled up, soon joined by a Hudson police officer, to deliver paperwork revoking Eric Langill's permission to be on the property, and putting on hold the contract to carry out work on the Hazelton Barn.
Selectmen Chairman Roger Coutu said he didn't witness any confrontation, but spent most of the Friday "trying to calm everyone down."
Coutu said KSL's work documents were submitted and routed through the normal process: signed by selectmen, approved by the finance department and forwarded to the treasurer, who cuts the check.
But when Pearson reported to him what had happened, Coutu approved a letter ordering Langill off the property, which was served with a police officer, "until cooler heads prevail," Coutu said.
Coutu said Pearson reported "substandard work" in some areas of the project, including use of the wrong wood materials, dumping debris in the woods and leaving old construction materials behind in buildings.
Eric Langill countered that the wood type claim is wrong, and that the company invested $3,000 in Dumpsters for debris.
Pearson's report also lead to Coutu ordering a hold on the Hazleton Barn contract until the selectmen can meet.
Coutu asked Massey to head up a "neutral" fact-finding process because Coutu is leaving for Colorado on Wednesday.
On Monday, Coutu plans to meet with Massey on the information ahead of Tuesday's meeting. He expects Pearson and KSL to go before the board together, but he's not certain if it will be in public session, depending on what the town attorney advises.
Work on the current projects will continue, and KSL hopes next week will bring resolution.
"There's really no justification for him removing Eric from job, because it's in the bid with Eric as part of job," Kevin Langill said. "If Mark and Eric have personality conflict, Mark's going to have to work it out. But it's not that way yet, and hopefully we can straighten it out."
Eric Langill agreed.
"I'm hoping to resolve all these issues, do our job, get paid and go home," he said. "That's all we ever want to do. We don't want any issues with the town of Hudson or any other contractor."