Belonga's sentencing set Jan. 26 in girl's death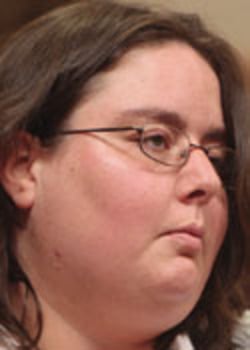 NASHUA – Sentencing is set for Jan. 26 for a mother convicted of killing her 21-month-old daughter, court staff said Thursday.
Nicole Belonga, 27, of 65 Alder Drive, had been free on bail while facing trial but was jailed Wednesday after a jury convicted her of manslaughter.
Belonga's trial began Oct. 21 and lasted over two weeks. Jurors deliberated for five days before acquitting her on a charge of second-degree murder and finding her guilty of the lesser charge of manslaughter.
Belonga's daughter, Rylea Belonga, collapsed Jan. 6, 2006, and was pronounced dead 13 days later. Doctors testified that Rylea had suffered severe brain and arterial injuries that could only have been caused by abuse.
Belonga's lawyers argued that Rylea could have been harmed while at a baby sitter's home on the morning that she collapsed, and prosecutors argued that Belonga's admissions to police and the medical evidence proved she was responsible.
Belonga could have faced up to life in prison if convicted of second-degree murder. The charge carries no mandatory minimum, however, and typical sentences are substantial but less than life. She now faces a maximum of 15 to 30 years in prison, but again, the charge carries no mandatory minimum.
Prison sentences in New Hampshire always are expressed as two numbers, a minimum and absolute maximum sentence. Prison inmates can't earn time off for good behavior; they get extra time for misbehaving. In either case, the sentence can be changed only by subsequent court order.
Manslaughter is a "lesser, included offense" of second-degree murder. State law (RSA 630:2) defines manslaughter as causing the death of a person either recklessly, or "under the influence of extreme mental or emotional disturbance caused by extreme provocation."
Second-degree murder (RSA 630:1), on the other hand, involves "knowingly" causing another person's death, or causing death "recklessly under circumstances manifesting an extreme indifference to the value of human life."
Belonga was charged, and convicted, of acting recklessly, not knowingly. The law defines recklessly as being aware of, but disregarding, "a substantial and unjustifiable risk" of harm to another person.