Before you head to the polls, they get to work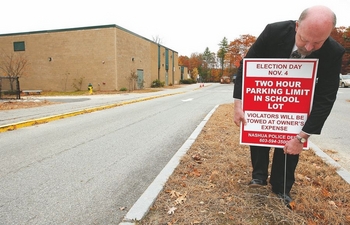 NASHUA – When you vote today, consider the unsung heroes of the election: the city workers who put up voting booths in each of the city's nine wards.
Bob Dion, a supervisor with the city's traffic department, remembers a few years back installing booths at the Fairgrounds Middle School gymnasium while students were practicing archery inside.
"It was awful," Dion recalls, as workers feared getting struck while they went about their business.
Or, in another school, stumbling into the middle of a dodge ball game, with the round, rubber projectiles smacking the walls around them, remembers worker Joe Brassil.
We invite you to check back throughout the day and view our live video feed from various polling places throughout the region.
Fortunately, the Ledge Street Elementary School gym on Monday morning was calm, quiet and student-free as the work crew toiled away. The same five workers – consisting of "two rookies and three seasoned veterans," Dion said – would visit all nine polling places, making sure the booths were ready for the presidential election.
The most seasoned of the veterans, Mike Lambert, has worked for the traffic department for 23 years.
"I've been through five presidents so far. I'm working on my sixth," Lambert said.
Over the years, the job has gotten easier. No longer do workers have to lug in the heavy, boxy voting machines used in the old days, he said.
"These new ones are great," Lambert said. "Just like putting up an erector set."
Meanwhile, another advance in technology has aided City Clerk Paul Bergeron.
"With cell phones now, I don't have to be tied to my desk," Bergeron said.
Should any problems arise, the attorney general and secretary of state have the cell phones numbers of Bergeron and the deputy city clerk.
Bergeron spent Monday putting up signs at polling places that announced that parking limits had been expanded to two hours. Otherwise, he manned the phones to make sure things were going smoothly.
On Election Day, Bergeron was to begin his day at 4:45 a.m. delivering ballots to all nine wards. He expected the job to be finished by 5:30 a.m., with polls opening at 6 a.m.
Before then, ballots were kept locked in a vault at City Hall, he said.
"We have the longest polling hours in the state," Bergeron said, with polls closing here at 8 p.m.
Nashua also has something many other cities and towns don't have: high school foreign language students on hand to translate for citizens who don't speak English.
Bergeron, with the help of state Rep. Jane Clemons, got a law changed so that 17-year-old students could help at the polls.
Seven Spanish-speaking and one Portuguese-speaking students will be available at seven of the city's nine wards, with only Bicentennial and Broad Street elementary schools excepted.
With record voter turnouts predicted, the city has six or seven registrars working at each polling place, instead of the usual two or three, Bergeron said.
Also, the city has rented an extra 30 folding chairs and one or two collapsible tables for each voting site, he said.
Meanwhile, a steady stream of people dropping off absentee ballots filed in and out of the city clerk's office Monday morning.
As of Monday morning, 3,917 absentee ballots had been given out, and 3,343 returned, Bergeron said.