Beer tent will fill bellies at holiday stroll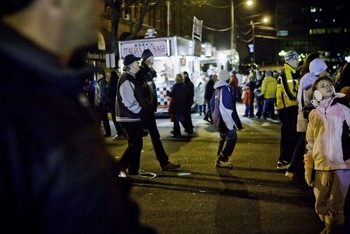 NASHUA – Last year, the Winter Holiday Stroll netted a grand total of $800 for a downtown marketing organization.
This year, Great American Downtown hopes to turn a $10,000 profit. To help reach it, GAD has introduced what it views as a surefire moneymaker: Beer.
For the first time in the 15 years of the stroll, a beer tent will be set up on Factory Street to cater to the beverage-imbibing adults among the several thousand revelers expected to attend.
The stroll begins at 5 tonight, with the annual lighting of the Railroad Square Christmas Tree expected at about 5:30 p.m. Entertainment will continue downtown until 9:45 p.m.Organizers had to jump through a lot of hoops to get approval for the beer tent, according to Sue Butler, the GAD executive director.
"There were a lot of state and local laws that needed attention," Butler said.
To get approval, organizers had to work with the state and a myriad of city departments, including fire, police, health, parks and public works, she said. "I wanted this to be a revenue generator, but fun and safe," Butler said.
Sponsored by Bellavance Beverage, the beer tent will be patrolled by police and staffed by "loads of responsible volunteers," she said. The beer tent isn't the only avenue GAD is taking to raise money, Butler noted.
The organization substantially reduced its entertainment budget by not booking higher priced, headliner bands, she said.
Also, raffle tickets will be sold for $1, or 15 for $10. Prizes will include $1,000 worth of gift certificates for local retail shops and restaurants, movie tickets to Chunky's Cinema Pub and a Budweiser Red Sox Commemorative World Series Shadowbox – which Butler said would be perfect for a home gameroom.
Also as a first, there will be costumed characters such as Shrek, Rudolph, Elmo, Sulley (of "Monsters, Inc."), and the Christmas Moose.
"It's going to be great. Kids are going to love it," Butler said.
As usual, downtown shops and restaurants will be open during the stroll, with many offering specials and discounts.
Money that GAD raises will be used to market downtown businesses and events, and will go to a new Web site in the works to showcase the downtown, Butler said.
"It's going to be a great feather in GAD's cap," prophesied Sherrilyn Alden Bellavance, a downtown merchant and GAD vice president.
She predicted that the stroll will be a huge success.
"With the economy the way it is, so many communities and organizations have cut back on activities," Bellavance said.
Instead, GAD has expanded the offerings at the stroll, downtown's biggest event of the year, she said.