Bedford cracks down, but not everyone likes it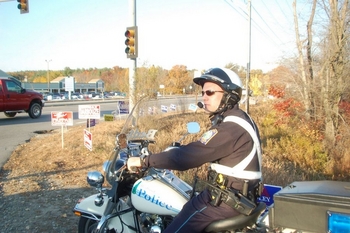 Ask any Bedford resident what he or she would like to fix in this town and Route 101 usually comes up: There are too many dangerous intersections and too many drivers speeding and running red lights.
"It's just too dangerous. Somebody's going to die," said town council member Michael Scanlon in September, when the council publicly announced its support for zero tolerance on Route 101 traffic violations.
And Bedford police are giving traffic violations, including those on Route 101, more attention than ever.
"Our No. 1 priority is Route 101 traffic," police Capt. Dan Douidi said. "It's a major concern."
Patrol officer Rob Lavoie has a new schedule focusing exclusively on motor vehicle enforcement. The role is a result of greater police staffing, which the town has supported since a 2006 consultant study.
Lavoie rides a motorcycle, which is less visible than a cruiser with roof lights, meaning more traffic violations happen right in front of him.
At Routes 101 and 114, he'll easily pick off the third or fourth vehicle going through the red light, focusing usually on the most flagrant violations.
At Nashua Road, where eastbound cars traveling on Route 101 get tired of waiting behind the backed-up traffic, cars frequently – and illegally – pass a long line of traffic in the breakdown lane to turn right.
Lavoie writes tickets almost nonstop.
"It takes five to seven minutes to deal with one vehicle, and you no sooner clear that vehicle, with your paperwork then another car does it," Lavoie said.
At Meetinghouse Road, there are few hidden places to wait, so wherever the officer sits, at least one line of traffic can see him. But Lavoie still writes tickets.
"We get numerous complaints about violations there, but I don't get as many violations. I'll sit there for about an hour and a half in the morning, and I'll get three to five violations," Lavoie said.
But if the officer's visibility makes people drive more safely, that's a benefit too, Douidi said.
South River Road is another hotbed of violations – mostly speeding – and smaller roads have their share, too, according to patrol officer Eli Krause, who spends some of his time on traffic.
Many residents are glad to see an officer out there, Krause said.
"People sometimes thank me when they see me monitoring traffic in the neighborhoods," Krause said.
On the other hand, no one's ever happy to see the blues light up behind them, and it's those unhappy drivers that Lavoie encounters every day.
"I've yet to have someone actually thank me for pulling them over," Lavoie said.
But he has received thank you letters after the fact.
A woman Lavoie pulled over for speeding wrote him a letter of commendation for stopping her dangerous driving, Lavoie said.
Another wrote to thank him for recognizing a child restraint violation, thereby keeping the driver's child safe.
But most of the time, the job is a thankless one, even dangerous.
If the motorcycle's lower visibility is good for pulling people over, it's not good for staying safe on the side of the road.
"Being out on the motorcycle unit, people not seeing you is the biggest issue," Lavoie said. "Even with the Move-Over Law, I've seen vehicles flying right by me on the side of the road."
That driving behavior caused injury to an officer a few weeks back when a passing car struck officer Christopher Storti while he was conducting a vehicle stop, Lavoie said. Storti suffered minor injuries.