Bank is sole bidder in Spartans auction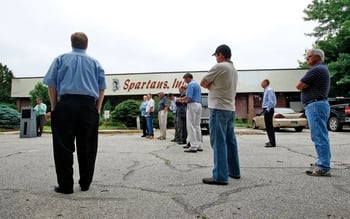 An auction to sell the longstanding Nashua home of the Spartans Drum & Bugle Corps happened so fast there would have been no time to strike up the band. In less than two minutes Tuesday morning, the mortgage-holder of the 15,400-square-foot building and two-acre lot placed the winning – and only – bid. Without much fuss, Bank of New England bought its own 73 E. Hollis St. property for $800,000.
In the time it took quick-tongued auctioneer Jim St. Jean to acknowledge the offer, look around for any other bids and then close the process, he could have read the Gettysburg Address.
"Eight-hundred and five thousand, anyone?" St. Jean said surveying the crowd of potential bidders. "We all in?" he asked before closing bidding.
Now, a bank will possess a visible part of the Crown Hill landscape: the old home office of the recognizable – by sight and sound – Spartans Drum & Bugle Corps.
In existence since 1955, the organization filed for bankruptcy protection last fall, with its director, Paul LaFlamme, claiming the Spartans owed more than $195,000 to various creditors and suppliers.
LaFlamme had hoped to sell the property to nonprofit Lamprey Health Care. But despite the two sides reaching a $915,000 purchase-and-sales agreement, the deal never materialized, according to LaFlamme.
Representatives of Lamprey attended the auction, standing among about 15 interested people in the front parking lot of the Spartans site. After the auction, Lamprey Board of Directors member Paul DeCarolis said the nonprofit is still interested in the property. Lamprey officials previously said the site could become home for its Nashua Area Health Care Center.
The auction occurred without a Spartan present, and no sight of LaFlamme. A hearing on the Spartans is scheduled for Thursday in U.S. Bankruptcy Court in Manchester. The Spartans' attorney, Eleanor Dahar, has twice asked for postponements of the hearing, citing issues with the property sale.
The property and building have a total assessed value of $936,500, and $8,427 are owed in property taxes, the city tax collector's office said.
A former director of the Spartans, Peter LaFlamme – Paul LaFlamme's uncle – blamed the economy for the group's troubles. But some board members, including Paul LaFlamme, fault the elder LaFlamme of mismanagement.
The property once bustled with bingo nights and meetings of the Spartans. But on Tuesday, the building offered only signs of inactivity. Inside the spacious hall, three large displays featuring newspaper clippings of Spartans achievements were the only reminder of better days.
A few people walked through the hall but declined to say if they would bid.
In the end, only Bank of New England owner Bill DeLuca placed a bid, making the $800,000 gesture with his right hand.
Albert McKeon can be reached at 594-5832 or amckeon@nashuatelegraph.com