BAE unveils tool, says it will keep 30-50 jobs in city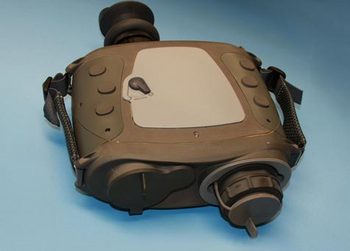 They look like a pair of binoculars, but they could be a coveted tool for soldiers in the field.
BAE Systems on Monday unveiled a handheld target locator that combines the features of several instruments, including night-vision goggles. It will enable a soldier to target objects in all conditions, company officials said.
The laser target locator module, or LTLM, will keep 30 to 50 workers employed at the company's Nashua facilities, said BAE Systems officials in a press conference at a company facility in Lexington, Mass. That number could also include some new jobs, they said.
BAE Systems has a contract with the military worth up to $347 million to produce up to 200 LTLMs per month, said Michael Lewis, vice president of the company's Soldier and Vehicle Solutions division.
The LTLM is shaped almost like a canteen, with one eyepiece.
It weighs less than 5.5 pounds and has some high-priced electronics inside.
It has several functions that would otherwise be part of different machines, said Rajani Cuddapah, a senior program manager for the company's Electronic Solutions division. A soldier doesn't have to think twice about taking it into the field, she said.
The LTLM has a direct-view optic system, much as binoculars do, but also has a night vision camera that uses infrared technology.
The device also has a laser range finder that determines distances between objects, a digital compass and a GPS receiver.
It can be used in the day or night, in fog and through smoke, BAE officials said.
Up to 6 miles away, the LTLM can identify targets as small as 20 feet by 20 feet, Cuddapah said. Even at a distance of a half-mile, distinct features can be identified, she said.
One of its functions is to allow a solider on the ground to call in coordinates to support fighters, company officials said. In targeting mode, the device calculates information and provides feedback, they said. Data can also be electronically transferred to other soldiers, they said.
Running on two sets of batteries, the LTLM is low-powered and doesn't require constant maintenance, Cuddapah said.
"It has some much-needed capabilities, and it's something they want," Cuddapah said.
BAE Systems has a delivery order for 1,990 LTLMs, Cuddapah said. The company is making them in partnership with Vectronix.
BAE Systems is a British industrial conglomerate.
Its Electronics & Integrated Solutions division has locations in New Hampshire, including sites in Nashua, Hudson and Merrimack, and in Massachusetts.
Also unveiled Monday were much larger contracts for a 24-hour, all-weather visibility system for operators of Army and Marine Corps ground vehicles.
Combined, BAE said the two systems provide long-term contracts worth more than $2 billion.