Autograph? Super Bowl title? Donation? All were on minds of Ben Watson fans Saturday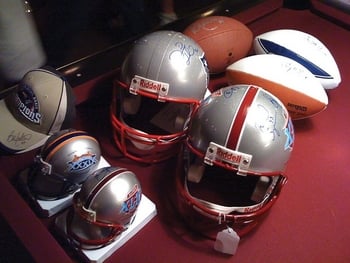 NASHUA – Winning another Super Bowl this year would be nice, but it would be that much sweeter for New England Patriots fan Justin Niebels if it came against the team that put an end to the perfect season two years ago.
"My dream match-up would be Giants versus Patriots," Niebels said when asked for his prediction for the upcoming season. "Patriots win in a blowout."
Niebels, 15, was one of many football fans who came out to the Boston Billiard Club of Nashua on Saturday, when Patriots tight end Benjamin Watson was holding an autograph-signing fundraiser.
The proceeds went to Watson's faith-based charitable foundation, One More. Autograph tickets were $20.
Watson posed for pictures with fans after he signed their memorabilia.
With training camp set to start this week and the first game less than two months away, fans said they're excited for the season to get under way.
Watson said he's also looking forward to getting back to work, although he admits training camp isn't exactly a walk in the park. It can be grueling, he said, but it's necessary to get ready for the long season.
Watson didn't have any predictions for 2009 – only that he plans to give his all to the team and to work hard.
"Those are the things that got me here," he said.
Niebels, sporting a Wes Welker jersey, showed off the portrait he had Watson sign.
Niebels, who plays defensive back for his high school's football team in New Bedford, Mass., said he was a little nervous meeting Watson, although it isn't the first Patriot he's had the opportunity to meet.
Niebels spent part of this summer at offensive lineman Matt Light's summer camp, where he learned skills such as backpedaling and shuffling.
Watson, 28, started his charity with his wife, Kirsten.
They met when they were going to the University of Georgia. Watson said their first meeting was when they were both volunteering to mentor children.
Watson said his charity is about promoting education and providing enrichment opportunities through initiatives and partnerships.
"It's definitely been fulfilling," Watson said. "Whatever your background . . . people like to be involved with helping other people."
Along with the autograph signing, there was a silent auction with memorabilia from all four major Boston sports represented.
Among the items being auctioned off were a Tom Brady signed jersey and Watson's autographed, game-used cleats. New England Player Promotions organized the event.
As for the upcoming season, Watson said he doesn't expect there to be much of a learning curve with superstar quarterback Brady returning.
Backup Matt Cassell took over quarterback duties last year when Brady went down with a knee injury.
"My job pretty much stays the same," Watson said.
Watson said he enjoys talking with fans about the team and their hopes for a new year.
"Everyone seems to be real excited about the season," he said.
Include mother-and-son duo Heidi and Shawn Langlois of Salem among those looking forward to another Patriots season.
Heidi, 64, considers herself an avid football fan.
"People don't like to sit next to me when I watch football," she said, laughing.
Shawn, 47, said his favorite Patriots memory is driving down to Miami in 1986 for the AFC Championship Game against the Dolphins.
He and his friends didn't have tickets, but were able to buy some from a scalper and got into the game.
Shawn Langlois, wearing a Brady jersey, said another great memory was being at Super Bowl XXXVI in New Orleans, when the Patriots upset the St. Louis Cardinals to win the team's first NFL championship.
The fate of this upcoming season rests on the offensive line and whether they can protect Brady, Shawn Langlois said.
There is a lot of uncertainty about how Brady's knee is going to hold up after last year's injury, Langlois said. His mother agreed.
"If Brady is 98 percent healthy, then they'll make it to the Super Bowl," Heidi Langlois said. "If he's 100 percent, they'll win it."