Autistic area teen has first photo show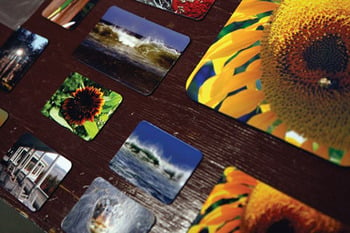 NASHUA – Don't go to Curtis Glover's art show this weekend because he's autistic. Go because you like art.
That's what Glover, an 18-year-old high-functioning autistic senior at Merrimack High School, wants. Glover has been photographing everything from the perfect wave at Hampton Beach and a bumblebee feasting on an enormous sunflower here in New Hampshire to geckos hanging out on banana plants and Pacific Ocean sunsets in Hawaii for about three years.
His first photography show, "Life As I See It: A Photographic Show," opens today at Daniel Webster College's Eaton Richmond Center. An opening reception will run from 4-8 p.m., and the show will be open from 10 a.m.-4 p.m. Saturday and from noon-4 p.m. Sunday.
Glover said the name of the show isn't a reference to his unique outlook on life due to what he calls his "different ability." Rather, his pictures are meant to capture a moment as it happens, as opposed to a photo a professional might take that's perfectly lit, framed and composed.
"It's just how I see life," he said Thursday while he and his mother, Sandra Glover, made final changes on the couple of dozen prints hanging in a gallery at the college. "It's about events you witness that's once in a lifetime. That's what photography's about. You can always look back at the memory."
Glover was offered the show after a public speaking engagement at Rivier College to a room full of special education master's degree students. Glover gives several talks each year around the country, talking about what it's like to live with autism and what he needs and wants from doctors, specialists and teachers.
That, and photography, are something he wants to turn into a profession after high school and, he hopes, college.
It's a long way from where those doctors and specialists said he would be just before his second birthday, Sandra Glover said. According to them, Curtis would never speak, likely wouldn't be potty trained or tell his parents he loved them because he wouldn't know what it means. One intern advised Sandra and her husband, Todd, not to get too attached, she said.
Now it's fun to bring Curtis back to some of those same doctors and show them what he's become.
"The best part is when he proves them wrong," she said. "I'm waiting for him to hit a ceiling because he hasn't yet. He tells them you have to set the bar really high. It drives him nuts when people tell him he can't do something because of a label."
Glover's eyes widen at that and he interrupts.
"Who cares about a label? I just say, give me a chance," he said.
Sandra Glover said she knows her son deals with different challenges, but she tries to give him the same opportunities or challenges anyone would face, sometimes just to see what happens. Many times Glover surprises everyone and copes. If he can't, that's the time to think about how to deal with it. That's why she wants visitors this weekend to be honest.
"I'm mostly hoping they don't give him more credit just because he's living with autism," she said. "I'm just proud of the fact that this is a passion of his, and look what he's done."
Glover started the public speaking events almost by accident. Sandra did them, talking about raising an autistic son, and one day, he just took over. He stood up and began talking about living with autism as only someone with the condition can do.
"That's why God gave me a voice and gave me autism," he said, "so I can prove to the world that autism is never bad."