Auction is first step in region's energy future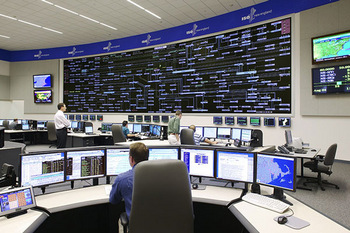 New England's quasi-public regional power grid held a three-day auction earlier this month among hundreds of power plants competing for shares of a lucrative subsidy that pays them to be ready to go online when needed.
The incentive, called a forward capacity payment, also was open to energy conservation projects.
The six-state ISO New England electricity power market, based in Holyoke, Mass., held eight rounds of bidding between Feb. 6 and Feb. 8 to make sure it can meet a projected peak demand for 32,305 megawatts of power in the summer of 2010.
Future auctions will increase the supply of electricity by the addition 4,500 megawatts that are expected to be needed in 2015. That's the equivalent of four Seabrook nuclear plants going on line or any combination of smaller power plants and new conservation projects.
Managers of the grid had announced they would set a price floor of $4.50 per kilowatt-month of capacity, and that figure was where the auction ended. The result translates to $54,000 per megawatt per year.
The artificial floor resulted in 34,353 megawatts of capacity that ISO New England has committed to pay for, an excess of 2,047 megawatts. The six-state price tag works out to about $1.7 billion, to be borne in the end by ratepayers in the form of higher costs for electricity. That figure is in addition to the daily and hourly price of power the plants actually deliver and get paid for.
The subsidy dilemma
Gordon van Welie, ISO New England's president, said the electricity wholesale market is entering a new era.
"We are pleased with the participation and smooth execution of this first auction," he said. "This launch creates the market stability needed to encourage the long-term development of New England's bulk electric power system in the most efficient manner possible," he said.
As hoped, the event stimulated 1,188 megawatts of new energy conservation projects across New England, including 10 megawatts in New Hampshire. Existing New Hampshire power plants qualified 4,083 megawatts for the forward capacity payments. Proposed power plants won an additional 54 megawatts worth. Together, the New Hampshire power plants and energy-saving projects will receive $227 million in 2010.
The 720-megawatt Granite Ridge plant in Londonderry can expect about $39 million that year from the auction. Today it gets $27 million. The 1,200-megawatt Seabrook nuclear plant will get about $65 million, compared with a current $45 million. Public Service of New Hampshire will receive $62 million, compared with $43 million now. The 525-megawatt Newington Energy plant can bank on $28 million, an increase of $9 million.
But are such subsidies like that a good thing for New Hampshire? The answers are complex and require some history.
The New Hampshire Legislature five years ago stopped halfway into the massive economic gamble of forcing PSNH to sell off all its power plants. The utility unloaded Seabrook, but kept the rest of its generating capacity, totaling 1,150 megawatts in hydro, oil- and coal-fired plants. Every other New England state made its big utilities divest all of their generating capacity, leaving just their regulated networks of wires and poles.
Those freed-up power plants now operate as independent merchants selling into the daily spot market for electricity run out of Holyoke. Nobody still guarantees them a fixed return on their investments. If they fail, their investors take the hit.
But the prevailing price of power from Holyoke is almost always higher than what it costs PSNH to produce its own electricity. Natural gas power plants largely determine the minute-by-minute price on the six-state grid. Their fuel price has gone up threefold since the start of the century. PSNH officials estimate they save ratepayers a combined $180 million a year on their electric bills by serving most customers outside the economics of the grid.
PSNH earns a regulated profit of 9.6 percent on its investment and by law passes any extra margin along to ratepayers in the form of lower monthly electricity bills. The utility buys about 40 percent of its power through Holyoke or through long-term contracts with individual power plants. When it buys from Holyoke, it is paying for a piece of the forward capacity market. So do its customers.
Growing demand
The unfettered regional spot market for power saw dramatic price swings and low-power emergencies in the first several years of the decade.
The situation was far worse in California, where some of the large players in the industry had learned to game the system by manipulating the supplies of natural gas and power to create blackouts and rolling brownouts, forcing the price of electricity off the charts.
So to avoid California-style chaos, ISO New England saw no option but to limit the maximum price of electricity and order unwilling suppliers to go online. It wasn't a popular move among power plants. A complex litigation ensued against ISO New England and the Federal Energy Regulatory Commission. The result was a 2006 settlement involving more than 100 parties.
Under the agreement, ISO New England would pay generators to keep operating and be ready to power up. Now power plants across New England are getting $37,000 per megawatt in forward capacity payments until May 31, 2008. New Hampshire plants are receiving $151 million today.
For the following 12 months, they will get $45,000 per megawatt, for a combined $184 million. The price rises to $49,000 per megawatt for the 12 months ending May 31, 2010, for a combined $200 million. That's when the auction begins setting the size of subsidy. Power plant stockholders in every company but PSNH will see that money as dividends, appreciated stock value or both. PSNH has to pass its windfall along to customers.
The incentive seems to meet the narrow goal of assuring the region receives enough power to meet growing demands. ISO New England officials said potential developers of 15,800 megawatts of new capacity are interested in bidding during the next several years of auctions. With so much anticipated demand, the floor price might be a bit lower next time, if there is a floor.