Attic fire snuffed in Nashua 2-family home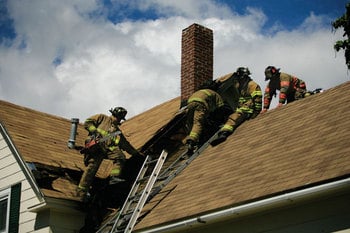 NASHUA – Firefighters made short work Monday afternoon of a fire that broke out in the attic of a two-family home at 33 Lincoln Ave.
Firefighters were able to get into the unfinished attic through a crawl space, as well as attacking the fire from the rooftop via a ladder truck, Assistant Fire Chief Keith Anderson said.
No one was hurt and damage was limited to the attic and interior wall space of the building, Deputy Chief John Allison said.
A contractor using a heated, electric paint scraping tool apparently ignited a wasp's nest and newspaper insulation within the wall of the house, Allison said. The contractor noticed the fire when a blob of molten tar dripped off the roof as he was packing up his tools, shortly before 2:30 p.m., Allison said. Firefighters and police briefly blocked off Lincoln Avenue, which runs between Main and Fifield streets.
– ANDREW WOLFE