Attendance at energy fair grows as prices rise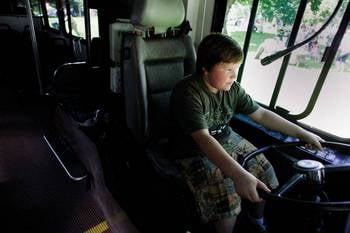 NASHUA – Although oil prices dropped last week, current energy prices and the cost of heating fuels have begun to worry area residents looking ahead to the winter.
David Alcaibe, a Nashua resident and electrical engineer, went to the annual Green Team Energy Fair in Greeley Park on Saturday in hopes of getting more information on energy efficiency and how to save money. Alcaibe has seen firsthand through his experience as an engineer how a more efficient home can save substantial amounts of money, which varies on a case-by-case basis.
"You can translate it into dollars," Alcaibe said. "It's a very current thing, of course, with the price of oil being as high as it is."
Nashua's Green Team, an advisory committee that provides guidance on energy efficiency to the mayor, board of aldermen and various division directors, hosted the event, which was designed to provide information about various forms of energy and sustainability.
Gil Richardson, a volunteer for the New Hampshire Sustainable Energy Association, and his wife, Laura, have been coming to the fair since it started two years ago. He said he has seen a growth in attendance at the fair, something he attributed largely to high oil prices.
"You would hope that people are getting more aware because they want to be, but it's really the dollar," Richardson said. "Their pocketbook is being affected. There's going to be some distressed people this winter trying to heat their houses."
The couple were on hand to provide the public with information about home insulation and energy use.
Gil Richardson said 70 percent of the energy required to power a modern television is still consumed by the unit when it's off. This is so the tubes required to run the machine don't have to heat up each time the user presses the power button, which means the television can turn on instantly.
He recommended a power strip or surge protector to eliminate the set's phantom power draw, as the strip can be switched off when electronics aren't in use and stops the electrical draw.
"Until people really embrace efficiency or try to get their use down, they're not going to save the money," Laura Richardson said. "People are concerned about unit cost right now, because unit cost is something that they see, something that's on the gas station's sign. And so they think about how many units they use of energy, their actual out-of-pocket costs.
"So, if they drive less, they're going to use less gas, and it's going to cost them less. If they insulate their house better, they're going to use less energy."
The event coincided with Nashua's SummerFun Children's Day. In addition to the organizations providing information, vendors and entertainers were on hand. Kids were able to sit behind the wheel of one of the city's biodiesel buses, as well as play in bounce houses.
how to save energy, money.