At the Laundromat, locals do a different kind of cleanup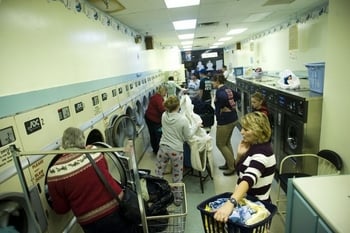 EDITOR'S NOTE: Along with gasoline stations, hardware stores and restaurants, the region's Laudromats have been swamped with customers who lack power at home. This is a slice of life at a Merrimack facility Monday afternoon.
MERRIMACK – From the looks of it, it had been a few days since a razor touched Bill Rolke's face.
He had been living for days on food packed into a cooler, and his dishwasher was overflowing with plates and cups he couldn't clean.
Now that he was on the verge of getting clean clothes, several sets of eyes were peeled on the washing machine next to him. One woman offered a gentle but anxious reminder: "I think your wash is done. The light went out."
"Oh, it's not mine," Rolke explained, looking around. But he was next in line, and moments later took his turn to pump a handful of quarters into the machine at the new hot spot in town: Streams of Water.
The narrow Laundromat in a strip mall on the Daniel Webster Highway in town was packed with people at 3 o'clock in the afternoon. There was barely room to walk in the front door. Baskets full of clothes were stacked on top of one another near the front office.
"It keeps coming and coming," owner Isabel Andrade said, shaking her head. Andrade and her husband had been working from 8 a.m.-11 p.m. for several days to make sure things ran smoothly.
But the Laundromat had become more than just a place to get a clean pair of underwear. Giving new meaning to the term "local watering hole," it was a place for townspeople to commiserate. And it seemed everyone had a story to tell.
Jeanine Notter, a mother of five boys ages 7 to 23, wanted other people to avoid making the same mistake she made Saturday morning.
After catching word of a new shipment of generators while watching her 20-year-old battery operated TV with the two-inch screen, she rushed out to buy one, only to find out later that it didn't work. So she and her family bundled up in the living room with blankets.
But the next morning, Notter plugged in her coffee pot and found the generator was suddenly working. She learned that a certain number of electric appliances have to be plugged in for generators to work.
Becky Flanders had planned to be spending most of her time over the weekend helping her son prepare for a second stint of Marine Corps training. But instead, her son was helping her husband clear the debris of fallen trees from their front yard.
Flanders was lucky enough to have a powerful propane generator on hand when the storm hit: She bought one two years ago in January when the power was out for four days, she said. So her home turned into the place where neighbors dropped by for a hot beverage.
"It's amazing how much people are grateful for a hot cup of coffee or tea," she said.
Amber Finn, a senior at Merrimack High School, recalled that her mom wasn't very happy several years ago when her step-dad went out and bought a generator on a whim. She thought it was an unnecessary expense.
"But now she's not mad about it," Finn said, loading laundry into one of the industrial-sized washers.
The generator didn't produce enough power to run the washer and dryer, and several of Finn's friends from school were staying with her family. So, the laundry was piling up, she said.
By nearly 4 p.m., business at Streams of Water showed no signs of slowing. Word had just circulated that Merrimack schools would be closed another day and few were hopeful about getting power back that night.
Andrade, who has owned the Laundromat for two years, said business had been three to four times what's normal. But she wasn't enjoying the growing base of customers as much as one would expect.
"I like business in a normal way, not this way. People are upset," she said. "But it's nature and you can't do much about it."