At NCC, ceremonies focus on positive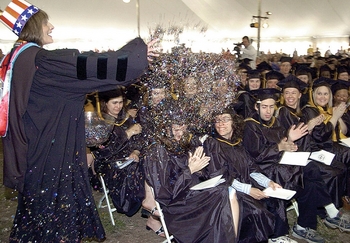 NASHUA – The 38th commencement of Nashua Community College contained a couple of twists.
First, there was the college president dispensing with the mortarboard to don an Uncle Sam's hat and, in the tradition of Rip Taylor, dousing the 294 graduates with handfuls of red, white and blue confetti.
Then, there was the nice touch of each graduate receiving not only a diploma, but also a budding red rose to give to the person who inspired him or her the most.
Not to mention this rarity: an ex-politician who delivered a commencement address that was both brief and humorous.
But perhaps the most poignant twist was the student address given by a graduate who better than anyone might represent what a community college education can offer.
Stacey Charron once was advised, "It's not where you go to college, but what you do while you're there."
That advice at first had a hollow ring for Charron, who enrolled at NCC after failing to get into Keene State College, she said.
She admitted that community college wasn't where she wanted to be, and that showed in her lack of initiative. But in her second year, she got involved in the Student Senate, a move she says turned things around.
"My true personality emerged in my final year three," Charron said. "You couldn't stop me. The Stacey you used to know was so gone."
When she first came to the school, Charron doubted the worth of a community college education.
"However, an acceptance letter from an Ivy League institution spoke otherwise," she said.
Now that she has her Associate in Arts, Charron looks forward to attending Cornell University in the fall. She also worked while going to NCC and volunteered for Habitat for Humanity.
"From community college to Ivy League college – only in America," NCC President Lucille Jordan said in her address, in which she carried the "only in America" theme forward with the star-spangled hat and confetti.
Charron wasn't the only star in the class of 2009, Jordan noted. She named a few others, such as two students who started a basketball team and students new to the nation who fought to overcome language barriers.
There also was a student who overcame dyslexia and provided a lesson to everyone. Also, there was Natalie Swirka, the first female graduate of the Honda Automotive Technology program in New England and New York.
All in all, the class logged more than 7,000 hours of community service, Jordan said.
"You turned the world upside down so you could find things that others could not find," Jordan said. "Individually, each student before us today is a star in their own right."
Quoting from such diverse sources as Mother Theresa, Ralph Waldo Emerson and Dr. Seuss, commencement speakers urged the graduates not to despair despite entering the work force in a sour economy.
"Please don't be discouraged if the job of your dreams is not on your radar screen at this very minute," said Claudia Mahar, representing the college board of trustees.
Bernie Streeter, a former executive councilor and Nashua mayor, said he doubted that students would remember who delivered the commencement address, except that it was "a senior citizen who had something to do with politics" and who "was humorous at times, or who at least thought he was."
Streeter told the class not to worry about stumbling, because everybody does. What matters, Streeter said, is how you recover from the stumbles.
The oldest graduate was 60 and the youngest 18, Streeter said. He asked for the 60-year-old graduate to raise her hand. When no one did, Streeter quipped, "She's probably at home resting."
He then added, "No matter what your age, keep a sense of wonder about this world of ours. It's really not that scary."
After the ceremony, Christina Pearl stood holding flowers surrounded by her husband; three children, ages 4, 5 and 6; and other family members.
"Her mother can't be prouder," beamed Jan Collins, who indeed was Pearl's mother.
The red rose, however, went to Pearl's husband, Jeffrey.
"He definitely kept my children out of my hair while I did my homework and studied," said Christina Pearl, who graduated with an Associate in Science in the field of human services.
"It's worth it to see her graduate," Jeffrey Pearl said.
He said he was proud of all the hard work his wife put into getting her degree.
Christina Pearl said she'd like to find a job helping underprivileged families get a hand up. She said she isn't worried about looking for work during the recession.
"This field is not for the money," she said. "It's for the inside fulfillment."