At hearing, lobbyists ask lawmakers to go slow on senior alert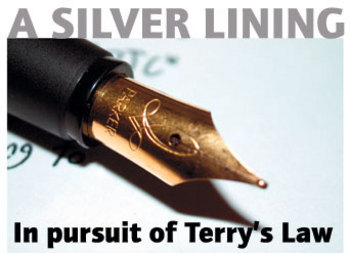 CONCORD – Lobbyists representing the state's radio and television stations urged a state Senate committee Tuesday to go slow on creating a new alert to help locate mentally impaired senior citizens or those of any age with developmental disabilities that go missing.
The questions from the New Hampshire Association of Broadcasters posed the most significant obstacle to this legislation that two sisters from the Nashua area originally requested in honor of their late mother.
Mary Stipe, of Merrimack, and Anne Conceison, of Amherst, came up with the idea of a Silver Alert program in memory of their mother, Teresa Canty Cahill, a victim of Alzheimer's disease who died last July.
Ultimately, the House of Representatives approved the bill (HB 279) on a voice vote without debate after removing "Silver Alert" from its name.
On Tuesday, Edward Brouder, a longtime radio host representing the group, said this new alert does not squarely match up to the emergency alert system the Federal Communications Commission regulates with great specificity.
"Our concern is that the FCC currently makes no provision for missing seniors in the Emergency Alert System," Brouder said. "This national warning system is available for state and local use, but broadcasters are bound by federal regulations and protocols."
The Senate should wait to determine before passing this bill to see if the U.S. Senate will act on federal legislation that the U.S. House embraced late last month, Brouder said.
"One way or another, broadcasters will be bound by federal law under the terms of their FCC licenses," Brouder explained. "It would be a shame to pass a state bill today that might be replaced or rendered obsolete by federal legislation before this session of Congress adjourns."
The New Hampshire bill is written to dovetail with the Amber Alert that Congress passed in 2003 to automatically send out over all radio and TV stations in a home state when a child is abducted.
In pursuit of Terry's Law
Brouder said that's one of 56 different settings on the emergency alert system. The equipment would not recognize and then automatically broadcast a message to find a missing senior or someone with developmental impairments at any age.
"I would like to reiterate that NHAB does not oppose HB 279 in concept," Brouder said of the legislation.
"But since the bill expressly chooses radio and television as the public conduit, care must be exercised to create the Silver Alert program in a way that fits into the existing emergency alert system."
Sen. Robert Letourneau, R-Derry, questioned if that would only require a simple adjustment.
"Isn't that just a software change?" Letourneau asked.
Brouder said that's still the province of the FCC.
Rep. Peter Batula, R-Merrimack, the bill's prime author, said there's every reason to pass this alert and many have their own alerts for missing seniors and were able to get around these federal communication issues.
Batula pointed out the bill calls on law enforcement to alert the media once someone goes missing who meets the requirements for that alert but no radio or television station has to air it.
"Remember, this is a volunteer program; no one is told they have to be part of it," Batula said.
In fact, the legislation refers specifically that, "Participating radio stations, television stations and other media outlets may issue the alert at designated intervals."
The idea of waiting for Congress to act makes no sense, Batula continued.
"If the feds do pass a bill and it's stronger than ours, fine, it will override ours. If ours is stronger, we will override theirs so we have a win-win, either way," Batula said.
The broadcasters group told the Senate committee this pending federal bill also offers states money to carry out the alert, $5 million a year nationally from 2009-13 and another $4 million each year for equipment grants from 2010-20, Brouder noted.
Batula countered that all estimates of cost for this new alert are minimal and this federal bill could get stuck in some lawmaker's desk and never become reality.
"The broadcasters have received some grants for training and equipment and that's fine. It will fit in nicely with what this program is trying to do," Batula added.
Conceison said many of these senior citizens who have Alzheimer's or dementia were veterans of World War II and she invoked a military analogy in defending the bill.
"This June is the anniversary of the invasion of Normandy and many of these older men were there on D-Day," Conceison said.
"These are the people who have mental impairments through no fault of their own. They need our help now and I don't see why we can't help these people for a couple of dollars, some software and a little equipment.
"I think its outrageous to think there is no answer to this."
There are 12 states that have adopted similar laws and New Hampshire is one of five other states scheduled to take the issue up this year. Texas Democratic Rep. Lloyd Doggett has offered a federal bill (H.R. 632) to create it nationwide.
Batula said he tried to strike the right balance between a program that will mobilize a statewide search for someone quickly with enough requirements that this person was really missing and unable to find their own way home.
Studies done for the National Alzheimer's Association conclude that half of those with the condition who go missing for 24 hours suffer severe injury or death.
"I am not an expert on Alzheimer's, but I am an expert on living with someone with Alzheimer's," Mary Stipe said Tuesday.
Sen. Bette Lasky, D-Nashua, said the Senate should strike any reference to senior citizens from the bill because adults in their late 30s have shown signs of early Alzheimer's.
"My concern is there too many people under 65 who are in early stages of Alzheimer's and they would not fall under this," Lasky said.
Batula answered that he'd be happy if the Senate made that change.