At forum, case made for better care for veterans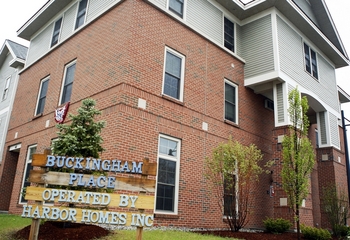 CONCORD – Having grown up in an orphanage and a series of 12 different foster homes, Dave Clark was far from a naive, sheltered kid when he was drafted into the U.S. Army at age 19.
But between the horrors he would soon encounter in Vietnam and the multiple challenges he would eventually meet back home, the 63-year-old Clark has grown to personify the importance of long-term health care for military veterans.
Now a resident of the New Hampshire Veterans Home in Tilton, Clark was one of several speakers at the state's first Forum on Veterans and Long Term Care, an all-day conference for providers in the state's physical and mental-health-care fields held Tuesday at the Concord Armory's Joint Forces Headquarters.
Roughly 150 representatives of nursing homes, adult day service programs, mental-health agencies and hospitals listened to experts and traded ideas at the forum, which stemmed from a February discussion between state military and state officials, according to Manchester Veterans Administration hospital director Dr. Marc Levenson, one of the organizers.
"We're focusing particularly on the unique problems that veterans face," Levenson said. "We've seen the need for long term care increase among veterans in recent years, and decided this is a good way to get (various agencies) together and work closer with each other."
Perhaps the fastest-growing area in the long-term care of veterans is in mental-health services. And at the top of that list, one psychiatrist said Tuesday, are the problems that develop when dementia and post-traumatic stress disorder come together in aging veterans.
"It was identified and given a name after Vietnam, but it was present long before that," Levenson said of PTSD. "They called it 'shellshock' or 'combat fatigue' but it was the same thing. Fortunately, we're learning a lot more about it, and the dangers it presents in leading to depression, substance abuse, and other behavioral problems," he added.
In Nashua, health agencies like Harbor Homes and the Greater Nashua Mental Health Center at Community Council (formerly Community Council of Nashua) have been giving more attention to veteran-related programs and services.
Cornelis Pieterse, a GNMHC staff psychiatrist who specializes in PTSD, said veterans are coming for treatment in increasing numbers. "We're seeing more and more applications," he said during a break in Tuesday's conference. "It's probably because there's been a lot of discussion about (PTSD) lately, and awareness has grown immensely."
More veterans are discovering that PTSD is treatable with professional therapy, and that more are deciding to seek assistance is a good thing, Pieterse said. But the trend has been slow in developing.
"There's a natural resistance to mental health (treatment) in the military . . . the common thought is 'we take care of our own problems,' " he said. "To want or need mental-health counseling is too often considered a sign of weakness, especially in the military. But it's not, not at all."
GNMHC associate executive director Carol Farmer, who accompanied Pieterse to the conference, said the heavy security issues that go with life in the military can send the wrong message to soldiers when it comes to mental health. "I believe that creates a broad sense of stigma associated with seeing a psychiatrist," she said. "That's especially true for older veterans.
"I'm glad we're addressing this issue today," Farmer added. "We need to take care of our veterans."
Meanwhile, Nashua's Harbor Homes, originally founded to shelter homeless individuals and provide assistance for people with mental illness, grew into a major comprehensive veterans advocacy agency with the recent opening of Buckingham Place, a transitional housing facility for veterans in need.
"They're one of the leaders in the field," said Levenson, the VA hospital director. "They're doing a great job down there."
Clark, meanwhile, was disabled, nearing 60, growing weaker and weaker, and nearly out of hope after four decades of battling mental and physical setbacks, many of them resulting from the battlefields of Southeast Asia.
In February '68, Clark was transporting reinforcement troops to battle when enemy fire blew up the truck. He survived, but the men were killed. Hit in the resulting firefight, he was dragged to an aid station by comrades who, he said, "saved my life."
After two years' recovery, Clark refused disability and returned to a stateside assignment as the driver for the commander of Washington's Fort Holabird, even chauffeuring President Richard Nixon and Vice President Spiro T. Agnew around the area.
Discharged in 1973, Clark worked until health problems cost him his job and – at age 29 – forced him to enter a nursing home. He met a young, single mom named Doris, whom he married in 1977 – until Doris' untimely passing less than 10 years later.
Clark had a heart attack in 1997, but again, fought his way back. In 2003, while working at Franklin Regional Hospital, he suffered a stroke that left him paralyzed on his right side.
"I was in the hospital for three months – until my insurance ran out," Clark told the assemblage. "They sent me back to my apartment. It was upstairs . . . I couldn't get downstairs – for three years," he added to a collective gasp from listeners.
Clark's only steady visitor was his sister, who took a taxi nearly 20 miles each way, twice a week to cook meals ahead for him and try, often in vain, to keep the place clean.
"I was down to 138 pounds, maybe even less . . . the apartment was atrocious. Thankfully, that's when Ellen found me," he said, referring to N.H. Veterans Home admissions coordinator Ellen Douville, another of Tuesday's panelists.
"The Veterans Home saved my life," Clark said. "I could not have survived much longer.
"All my life I've wanted a family. And I finally found it . . . I started a new life."