At chamber breakfast, speakers discuss legalization's pros, cons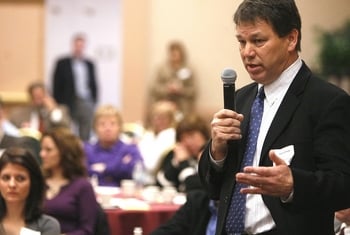 NASHUA – On one side are promises of good-paying jobs, a first-class, environmentally friendly resort, and a steady, long-term revenue stream for the state and several towns.
The flip side warns of more crime, a rise in people with addiction problems, and a general deterioration of the unique New Hampshire way of life.
The age-old debate whether the state should legalize expanded gambling took center stage at Thursday's Greater Nashua Chamber of Commerce Backstage Pass breakfast when four speakers – two for and two against legalizing gambling – took turns pitching their point of view before the audience of local business leaders.
The forum came on the heels of Wednesday's House vote that killed two expanded gambling bills, a move that now shifts the battle to the state Senate. Among the provisions in one of the bills, HB 593, which was defeated 295-72, was allowing a large-scale destination resort at the Green Meadow Golf Club property in Hudson.
But the project, named Sagamore Crossing Golf Resort & Convention Center, is still very much alive, thanks to an amendment to a Senate bill that would allow slot machines at the state's racetracks. That bill, SB 179, is sponsored by Sen. Lou D'Allesandro, D-Manchester, who was one of Thursday's speakers.
"People are complaining – and violently – that public money is being thrown at one thing after another," D'Allesandro said. "What we're proposing is an economic recovery and job stimulus package funded by private money."
The longtime lawmaker and former college president chided gambling opponents, saying the benefits of legalizing gambling would go a long way toward easing the state's current $250 million budget deficit.
"We know there's a lot of support out there," D'Allesandro said. "We need jobs, we need economic recovery."
But state Rep. David Hess, R-Hooksett, called gambling a scourge that typically brings trouble, rather than economic benefit, to the towns and states where casinos and slot parlors operate.
Hess, the deputy House Republican leader, told the group that even if legalized gambling were to pass, any economic benefits wouldn't be felt for 18 to 28 months. "This proposal is not going to get us out of this current financial difficulty," he said, referring to the state budget deficit. "It won't solve the economic problem for at least two years."
Historically, the Nashua chamber hasn't taken a stand on the expanded gambling issue, but that's about to change, said president Chris Williams.
"We'll decide on which position to take in the next three, maybe four weeks," Williams said afterward. "That's the purpose of this forum, to hear the different viewpoints and gather information. And we heard a lot today," he added.
While Hess conceded that the state's fiscal woes will force layoffs, affect funding for some state programs, and result in increases in certain fees and taxes, he stands by his belief that gambling is a bad idea for New Hampshire.
"This goes back 40 years," he said. "In all that time, every attorney general has said 'no' to casino gambling in the state. They have plenty of reasons – suicide and crime increase, families break down . . . I would take their word over that of any proponents," Hess added.
Hess described a typical casino as a sort of passive prison designed by owners with one thing in mind: keeping customers inside and spending their money.
"The casino business model is to get people there, and once inside, hold them captive with live entertainment, bars, different restaurants and (gambling) machines, and give them rooms to stay awhile," he said. "The goal of the owners is to maximize profits, that's it."
Restaurant owner and caterer Chuck Rolecek, a founder of "Fix It Now," a statewide organization that favors limited gambling, told the group how surprised he was when he first came to New Hampshire and discovered the various types of gambling already in place.
"I couldn't believe how much gambling there was, in the name of charitable organizations, at race tracks, on the Internet . . . and all those $30 scratch tickets around," he said.
"The depth and scope of our (fiscal) problem is pretty significant right now," Rolecek said. "My question is, if you don't believe in (legalizing) gambling as a revenue source, then what do you believe in? How many layoffs will it take?
"What if the state does touch business taxes? There's a lot of concern about that, especially in border towns," Rolecek said.
The fourth speaker, Henniker Police Chief Timothy Russell, began by questioning gambling advocates' semantics. "Why do pro-gambling people keep referring to it as 'gaming?' he said. "If they want to explain it correctly, call it what it is – it's gambling."
The New Hampshire. Association of Chiefs of Police has always opposed gambling "to make sure we maintain the New Hampshire quality of life," Russell said. "Gambling contributes to more crime, social degeneration, undermines social responsibility, and hurts legitimate businesses," he said.
Russell augmented Hess' comments about casinos themselves, saying the buildings are intentionally designed "with no clocks, no windows, and every time someone wins, you hear 'ding, ding, ding, ding . . .' "
"Why are they designed like that? To extract money from people, especially the elderly," Russell said.
He also said video slot machines "are pre-programmed for you to lose . . . to guarantee the industry a profit. That's why (casino owners) want to come into New Hampshire, because of guaranteed profits," Russell added. On the other side of the ledger stands Rolecek.
"We're talking about a $450 million capital investment," Rolecek said. "We should consider ourselves very, very lucky someone wants to come to New Hampshire willing to do this to help solve our unemployment problems and budget shortfall."