Assessing the North Country's business climate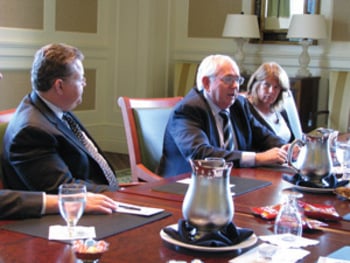 NHBR's editors recently met at the Mount Washington Resort in Bretton Woods with businesspeople from around the North Country to get their take on how the region's economy is faring during the recession, and what their expectations are for the future.
The participants were:
• Craig Clemmer, director of marketing, Omni Mount Washington Resort.
• Jac Cuddy, executive director, Mt. Washington Valley Economic Council.
• Katy Curnyn, director of retail and market access, Women's Rural Entrepreneurial Network, Bethlehem.
• Mike King, executive director of North Country Council.
• David Ritchie, director of sales and marketing, Omni Hotels.
• Barry Sondern, interim general manager, Omni Mount Washington Resort.
• Jim Tibbetts, president and chief executive, First Colebrook Bank.
Q. Can you give us an idea in general about how things are going economically up here?
King: We have suffered the economic downturn like the rest of the country, even a little before the rest of the country. Over the last few years we've been trying to deal with that. In Berlin, we've had some mill closings and some serious job losses. We've also had job losses in North Cumberland and Groveland, and just recently at Beecher's Falls, which is in Vermont but has a great deal of effect on Colebrook. Those are just some of the negatives, and I think that what we have been trying to do is figure out how to deal with that.
There are a lot of positive things that we are trying to do. Jac has built a technology village to create jobs and help the Mount Washington Valley. I think the Mount Washington Hotel has played a great part in trying to get recognition from the legislative body to what's going on in Coos County.
In terms of looking at our forest industry, we did a rather major Northern Forest Sustainable Economy Initiative that covered the four-state region of Maine, New Hampshire, Vermont and New York to try to look at the region and see what our economic advantages were and hopefully plan for what we can go forward with.
Those kinds of things have been really going on throughout the North Country, and I think that we are making some headway. Hopefully we'll get something done in Berlin. There's a couple of industries looking at wood products and biomass-type plants, and obviously there's still discussion about that. We're looking at Groveton and how we can reuse the Groveton Mill. It's a brownfield site, so we're looking at how to clean up the site and how we can reuse it and hopefully bring another industry in there and create jobs.
And the one thing that I think is very important as we sit up here in the North Country — there's 400,000 acres of natural forest. That is a big economic engine, or could be. It sure is a big economic engine for tourism, and we can't forget that. We sometimes don't remember how important the natural forest is to this region.
Tibbetts: The unemployment situation in Berlin has been going on for three years now, then it moved to Groveton and Beecher Falls, with the closing of the Ethan Allen plant, which is right on the border of New Hampshire. Sixty percent of their employees were from New Hampshire. So that is a major impact — 250 jobs. That's major to the Colebrook area. So we're just beginning to deal with some of the issues that Berlin and Groveton have already had to deal with.
Up to this point, our major industry is harvesting of wood and tourism. And tourism is so dependent on weather that the first part of the summer was rather poor, but the last six weeks we've seen a substantial increase in the number of tourists for this part of the season.
The wood prices have been down this year so the loggers have been struggling to survive.
The Ethan Allen production mill is closed, but they still maintain their sawmill, which will probably employ 80 to 85 people. They closed the sawmill in Maine and consolidated that in Beecher Falls and took production and moved that to Vermont. They're not dismantling or selling the building. They're keeping it to see if the economy comes back for furniture and their intent is to someday, maybe, reopen that. Time will tell.
Our margin of where we live and the way people live up here is totally different than the rest of the state. People here are very self-sufficient, and they will survive one way or another. Real estate values never really rose as high as they did in the southern part of the state, so they didn't have that far to drop. There are a lot of properties for sale, and I think people have been trying to take advantage of that.
The other real estate market up here is second homes. This really became quite an industry for us up here after 9/11. People felt they wanted to have a place away from the metropolitan area. We started to see not camps, but second homes being built along the hillside in Coos. We have not seen a real issue with foreclosures on those properties. There have been some foreclosures, but not as many as proportionally as I think in other areas of the state.
So we're in a transformation from the paper industry into the future. No one really knows where it's going to go, but it's going to take some time to get there. But we do know certain things need to take place. We need to enhance our infrastructure which is telecommunications. Telecommunications is just like water and sewer used to be. And we need to have that in order for businesses to even consider starting up or moving to our area.
Curnyn: As you've said, it's not the wealthy lifestyle up here. There aren't a lot of opportunities, and I think people have done without. That's why I think even though we've lost all these jobs, people have found ways to survive. There are more gardens everywhere. People are cutting back. There's been an increase in yard and garage sales. And I think people are just in that survival mode.
But there are pockets in this area that are still growing. I think that's because a lot of people are coming here for the experience. I mean it's beautiful — we have our small towns, small-town businesses. We can keep that and not go to all those chain stores and large businesses. I think people still want to come here. It's original, it's special. That's the kind of thing that if we can continue to value, we'll survive.
Ritchie: I totally agree. We need to be good stewards of the area and keep the genuine New Hampshire, New England experience and White Mountain experience, because that's what it's all about. From a tourism standpoint that is one of the most important things.
That's what Omni, being new to the area and to the resort, is doing. Omni's goal is to provide a genuine New Hampshire, New England experience at the Omni Mount Washington Resort. We don't want to change that experience at all.
King: There's a lot of effort going into energy in terms of biomass plants in Berlin or possibly Groveton. Also, there are wind farms that are being proposed or in the works in Berlin or north of Berlin.
There's also a project that we'll see soon — I don't know what this means so much for our economy, but the pipeline coming down from Quebec. It's going to be controversial and we're going to be talking about that for the next couple of years, but that's a big deal for New England, not just for the North Country.
Q. One of the issues we've been covering in NHBR is the need to upgrade transmission lines because of all these proposed energy projects. What's the perspective from the North Country on that?
Tibbetts: It's mixed up here. There are those that think it should definitely be built because it's going to bring some construction jobs and a handful of permanent jobs, and there will be an amount that will be paid to the county each year. There's others that are concerned about what it will do to the landscape.
King: Another issue is that somehow we'd like to take advantage of the generation of power and keep it local and reduce the rates for the people in the communities where the generation is happening. It's another political battle, and we need to pay attention to it.
Cuddy: The Mount Washington Valley and North Conway area has been pretty much insulated from the downturn or what's been going on in the lower part of the state. The resorts in our area were fairly busy — they had a good season. We don't have the housing market issues that the rest of the state has. What's happening in the Mount Washington Valley area is we have a lot of retirees moving from all parts of the country to our area because they appreciate what New Hampshire has to offer.
We created the Technology Village, which is an incubator. And we are full. We did a strategic plan and a feasibility study back in 2000 and basically it was off the heels of the bad economy back when the housing market was falling and the five major banks in the state of New Hampshire were under siege and pretty much disappeared. That's when the council said, what can we do to insulate ourselves as far as the economic engine that drives the Mount Washington Valley, which has always been tourism. It wasn't to replace the economic engine, but to add to it if there is an economic downturn. So we looked at what kind of industries would make the most sense, and obviously technology fits in to our environment.
In the incubator, we have three companies that are technology-oriented. One, Animetrics, is one of the leaders in three-dimensional facial recognition in the country. Another company, Rapid Insight, does analytical software and data integration. We have at this point we have probably 50 employees in the incubator.
We also created an angel investor network, with maybe 27 or 28 certified investors. They've helped in investing in several businesses, and we have them as part of our council.
King: The North Country is made up of different regions, like the Mt. Washington Valley. When you get over into where we are in Bethlehem, there's Littleton, and Littleton has been a very successful community. One of the most successful industrial parks in the state is right there in Littleton.
When you go down further south into Plymouth and that region around Plymouth State University, the advantage there is indeed the university itself, and they're looking at, though I think it's a ways off, doing a university-based incubator similar to the kind of thing Jac did. We don't think of it as Coos County, but it surely is part of the North Country Council, and it's something we think of and pay attention to.
Another industry we haven't talked about is the ski industry. You have Attitash, Loon, Wildcat — there are a number of ski areas and I'd be interested in hearing how they are doing.
Clemmer: It was our third best year ever as far as skier count. There's not a huge amount of people coming into the ski industry sport but we haven't seen a migration away from it. People who have disposable incomes aren't really looking to go west or Europe. They are looking to stay closer to home, which is very important to the ski industry.
We've had great success with the snow we had last year. The year before that, when we had a little less snow, we actually had our best year ever because of our snowmaking abilities.
As for the coming year, we've had our annual meeting with an association, Ski New Hampshire, and I think they're feeling pretty good about where this year is going.
Tibbetts: Just further north in Coos is the snowmobile capital of the state. There's a huge impact on us with the weather. We need the snow.
Q. Since the downturn, has there been more interest in people starting their own businesses?
Curnyn: Absolutely. We work with microbusinesses, and we work with people who have a full-time job but are doing something on the side. Whether it be a part-time job or they're selling things at the farmer's market or candles. We're really pushing that thinking, that everyone needs a business in their back pocket. Maybe you haven't thought of yourself as an entrepreneur before but maybe you're thinking about how you have to increase your income. I think that's the huge increase we're seeing with our class participation.
People are thinking outside of the box. They are thinking, "How can I increase my income? What if I lose my job? What can I do as a backup?"
At first it was mainly women looking for assistance from us. Now more and more men and couples are coming in to start their own businesses. We now have over 800 members, so in a community like ours that's pretty amazing.
Cuddy: From a financial point of view, you can't beat the infrastructure and overhead costs that you can have up in the North Country for a business. There are companies that want to come up here and see what it's like and are maybe looking to relocate to this area, knowing that there are places like the technology village is what we are looking for as the future goes.
Q. Let's talk more about broadband in this part of the state.
Ritchie: One of the first questions people ask is when I go to a resort or to a remote area, what's the accessibility? Can I get there easily? Where do I find it, how do I get in, what kind of transportation? Then there's the type of technology in order for them to accomplish their goal while they are at the resort. Do they have reliable Internet, business services, and all the things they look for to keep connected to their businesses while they are away? That's a very important component to people today and that's something we have invested in.
King: There's a major initiative up here, the Wireless LINC broadband project, which is really moving telecommunication forward and moving it northward as well.
Tibbetts: Some of the stimulus money has contributed when it comes to broadband. The state of New Hampshire has applied for literally millions of dollars in broadband infrastructure coming up here and improving that. We're moving ahead on that, and also cell tower communication too. This whole LINC project is going to have some fantastic operations once it's all pulled together.
Cuddy: The next big thing we really need to solve, and we all suffer from, is electric costs. They are still quite high, and it is a disadvantage.
It's one of the other things people ask about because it is a cost factor. That is one of the disadvantages to attracting people to this part of the state. I know transportation and the inability to travel east to west is a problem. Rails could solve that — maybe. I think we have to overcome that as an obstacle because we're probably never going to solve it so we need to find a way to overcome it.
Clemmer: I think it also affects tourism. The folks from Omni realized our funnel goes straight down into Boston, and we have Portland over here. We do draw some business from over there, but the ability to travel from over in that area isn't as easy it is coming right up the highway. Same thing with Vermont. People come from New York to Vermont and then over. It's a beautiful drive but it's not something that the average tourist will want to do in the winter.
The nice thing about our highway system is we do a great job keeping it clean and making sure the flow for tourists is open. It does get a little sketchy on either side of that.
Tibbetts: We have worked with the Department of Transportation in terms of improving Route 2 — as a matter of fact, there was a study of Route 2. There are a number of different problems. It goes through numerous towns. You can talk about bypasses, but that's not really an acceptable solution. And when you really think about it — other than keeping the road wide enough so it is passable, those really aren't solutions. Increasing rail, getting trucks off the road — that's a solution to the east/west transportation issue.
Million of dollars have been spent on the north-south corridor. East-west has been a bone of contention for the last 50 or 60 years.
Cuddy: Even in the transportation plan right now, a large piece of the funding that we get from the gas tax and toll roads are going to into improving the widening of I-93. That's something that I think most of the people in the North Country appreciate and support to some point. The problem we have is, how long are you going to keep saying this? We need a lot of money to go into the widening of I-93. The other hotels up here appreciate that. At some point, however, I-93 will be widened and things will turn around and we have to start spending money other places.
Ritchie: I-93 is awesome, but you can't only rely on 93 to build the economy. I think you need different components. Boston learned that very quickly with the Big Dig. Everything was funneling into one highway, and that was the whole problem with the infrastructure and what they needed to do was separate it all. You couldn't have five major highways going into one place. It just doesn't work.
It'd be the same thing if you continue to concentrate on 93 only, and you're probably never going to solve the problem in the northern part of the state.
I think people in Concord need to look at the what-ifs. Look at the market in New York and how large it is. Why does Vermont do so well? Their market is larger than New Hampshire's feeder market. New Hampshire's convenient feeder market is Massachusetts, and there are only a couple million people there. In New York, the market is 10 times bigger, not even thinking about New Jersey.
Q. Does the North Country feel like a stepchild, like you are being ignored on your issues and don't get the attention of Concord?
Curnyn: We definitely feel like we are a stepchild. We definitely feel we don't have a voice in Concord. There aren't as many people up here to get that voice heard in Concord. A very similar organization had a drive not far from Concord that was well known to the politicians, and yet WREN has been around longer. This organization is wonderful but to have WREN heard and known for the work we are doing is hard because no one comes up here. They're blown away once they come up here, but we just don't have the voice similar to other parts of the state.
Tibbetts: Population definitely plays a huge part in what gets done in the southern part of the state and what gets done up here. Look at Senator (John) Gallus (R-Berlin) and trying to get some stuff done. I can't think of it now, but there was an issue that he was trying to move forward that would be hugely beneficial to the northern part of the state. And he couldn't get the support from the southern representatives because it was money that was being moved.
King: The population in the North Country Council region, which includes upper Grafton County, upper Carroll County and Coos County, is 84,000 people. As opposed to the southern council that includes Manchester and surrounding areas with a population of 200,000 people. We just don't have the numbers up here. Coos County is about 30,000 people but represents two-thirds of the landmass in the state.
Tibbetts: I think this is a critical point. Because we don't have the number of people, we don't have the number of representatives in Concord and get things changed. But that's why some of these big positive things that have come about in the last three, four years have come about. That's why the four states joined together on the sustainable economic initiative, because now instead of having two representatives in New Hampshire and two in Vermont we end up having eight senators that can represent a region. All these things that we are doing, trying to transform ourselves for the future, we don't necessarily want Concord coming up here and telling us what to do anyway. We want to create our own future.
But the problem is that if there are roadblocks, if there are regulations that don't make a lot of sense that become roadblocks to us in proceeding to where we need to be in the next five to 10 years — that's where we'll need some political power and input.
Q. Another assumption from some people in the southern part of the state is, "Just put some casinos up there and everything will be great. It will get some people some jobs."
Ritchie: Personally speaking, I'm not a big casino fan. We can learn a lesson in a bad economy. The two casinos in Connecticut are suffering greatly. Think of all the other activities people can do today. I'm just not sure if those casinos are ever really going to come back. I think people are finding other things to do in their lives and experiences that they can have. I don't know if that's New England. I think our strengths lie in who we are and not who we try to be.
It's kind of like trying to create a better mousetrap. Are you ever really going to do that? Why not work on the strengths that we have here now?
Cuddy: A lot of talk was why don't you take the grand hotels and allow gambling to be in the grand hotels? I guess I wonder where you guys would stand on that.
Ritchie: We're not in that business. I can't speak for the company, but I don't see any opportunity for it. Personally, I think we are what we are, and that would be a big change. I don't know if it would be successful or not.
Tibbetts: During our three years of studying across the four states in our Sustainable Economy Initiative plan there was never a mention of gaming. That's one of the industries we didn't think to pursue. It's being pushed from another area. It's not really high on the list up here.
Q. What's it like in this part of the state in terms of young people leaving because I know that's been particularly true in places like Berlin, where there has been a substantial population loss. Is that true in the rest of the region as well?
Tibbetts: It certainly is up our way. There aren't many opportunities for them. Kids who either go into the service or to higher education, there isn't much for them to come back to. So we do have an outmigration of young folks.
But we are working on creating the opportunity so that those who do want to come back can and have a way of making a living out here.
What we do have is an influx of retired people. We aren't really taking advantage of those folks that have had successful careers and either have already retired or are going to retire early and have chosen to live in the Great North Woods. These are people that can perhaps help us with the future and help create opportunities to get these young folks back.
We think it's important that young folks experience something more than where they were born and raised. They need to go out and see what else the world holds for them. We don't have the opportunities for a lot of these people that have knowledge and are skilled. That's one of our challenges. But we don't discourage them from doing that. We think it makes them a better citizen if they experience other things than just their home town.
Cuddy: With the technology village, we've experienced graduates that did go out West, found their mate, settled down and decided later that they wanted to get closer to mom and dad back out in the Northeast. Two or three of them saw openings in the newspapers for jobs we had in the incubator and were able to move back to the Mount Washington Valley to start raising their children. That's something that has changed since these companies started to come in.
That is one of the reasons we created this.
Sondern: I'm surprised to see how many of the management team here at the Omni Mount Washington have had the ability to leave and get an education and additional training and have come back because they want to raise their families here. And they want to raise their families here. I would say the vast majority of them are from this area originally. And it's really nice to see it.
Another thing we are doing as a hotel, and I will say that the chefs have done an excellent job at reaching out to the area and getting as many apprenticeships as we can. There are a lot of young, eager kids here that want to learn culinary skills and grow in the business. I think those are the kinds of things that will really create a great future up here.
Curnyn: I would agree with what was just said. But I don't think it's the opportunity that has them leaving the area — they aren't staying around here because there's no social life. I just had a 23-year-old graduate from college. She is going to school online to continue her education, and she moved to Dover. She said she lived here a year and just had it. She saved money here living with mom, but the social life was just killing her. I think that is an issue and as a community we need to address it.
Q. Where do you think this region is going to be in five to 10 years?
King: I don't think there will be a lot of difference in the area. I think there will be pockets of the region that will reinvent themselves into different kinds of industries. I think a city like Berlin will look different. It will have a different kind of economy in some shape or form. I think places like the mill in Groveton and what will happen in Colebrook, they will have to do something different than what they are doing right now.
I don't think there will be major changes in the tourism. I think we will still be vibrant as a tourism destination. Hopefully, transportation and the rail will get a little better and we will see some different pockets of economic development occurring that will just be different than we are used to. But I just don't think the changes will be major.
Tibbetts: I disagree a little bit with Mike. I think there will be some major changes in the next 10 years. I think we have some hurdles, short-term hurdles, with the lack of jobs, but I think once the international and national economy turns around there will be a lot of opportunities sitting, waiting.
We do need to change ourselves, and it's probably going to take more than five years but in about 10 years I think the pockets are going to look totally different than they do today.
We will transform ourselves. It's going to happen faster as soon as people feel more confident in their economy.