As more buy local, farmers markets gain in popularity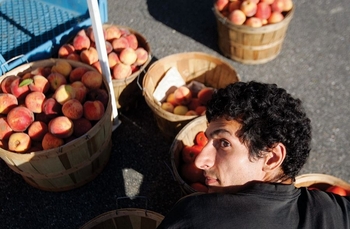 There wasn't a lot of room to park at the Brookline ball fields Tuesday afternoon. The parking was packed and cars lined the street nearby while people visited the dozen or so stalls for the grand opening of the Brookline Farmers Market.
Shoppers are relying more on local farmers markets and farm stands mostly for vegetables, but also for things like fruit, herbs, flowers and even soap and tea, according to some farmers.
Julia Kaplan, a Brookline resident, spent a few minutes at the Brookline market picking up a couple of spinach pies and pieces of fresh red snapper. She grows most of her own vegetables and supplements them with locally grown produce at a few local markets, she said.
"If you eat things that grow near where you live, it's symbiotic," she said. "It's healthier for you, and I like to support local people. Local is important. I wish there were more farms because it's really sad to see them go."
Drema Cody, an owner of Country Dreams Farm in Nashua, had one of the two stalls set up Tuesday at the Nashua Farmers Market in the parking lot of St. Louis de Gonzague Church on West Hollis Street.
She said the markets she sells produce at are busier than ever.
"We have customers that go from market to market. We have more and more people concerned about buying local," she said.
Randi Davis, of Nashua, said she tries to get to the farmers market at least once a summer.
"Because they have good food," she said. "It supports local business. It's close. I like coming here for that reason.
Recent E. coli and salmonella scares, namely tomatoes, have turned off some of her customers to mass-produced foods, Cody said, and many will stock up on things like cucumbers, corn on the cob and tomatoes so they can freeze them and use them later in the year.
"They want to talk to the people who grow their food," she said. "It's good to see it coming back to basics."
Karen Moyer is one of those people returning to the concept of eating locally grown food. She said that's a lot easier to do in Brookline, where she moved recently, than her old home in Connecticut.
"It's fun," she said. "I like the idea of supporting local farms and eating healthy. I've had the interest for a long time, but now I can do it. It's a small town. This has a different feel."
Barbara Moore and her husband, Frank, have been summer residents in Brookline for about 12 years and spend a lot of time at farmers markets in New Hampshire and their other home in Florida.
"It's primarily that it's healthier for us. The food is fresher," Moore said. "Nutrition is very important to me. Local products are better. Vegetables that travel across the country and sit on the shelves for a few days lose their freshness."
The Brookline Farmers Market has been held for a few weeks, but Tuesday was the grand opening. It's held Tuesdays from 3-6 p.m. The Nashua Farmers Market is held in the church parking lot Tuesdays from 2-6 p.m. and Sundays from 10 a.m.-3 p.m. on the Main Street Bridge.