As he does each year, man returns for tribute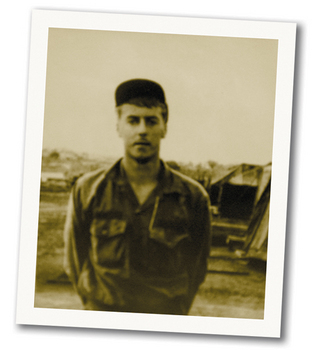 Hudson's not likely to forget its first resident killed in Vietnam.
Leonard Nute – Lenny to friends and family – was an Army radio operator when he was killed during a mortar attack in Chu Lai, Vietnam, on May 25, 1967.
He was 20.
In the Foxhole, the bar in the basement of American Legion Post 48 on Fulton Street in Hudson, a single light illuminates a glass and wooden display case that holds a folded American flag and a picture of Nute in Vietnam. There are also commendations from state and town officials, a belt buckle and medals, including Nute's Purple Heart and Bronze Star, which has a "V" for valor inscribed on it.
The gym at Hudson Memorial School is named after him. And every year since he died, one of his older brothers, Gene Nute, 72, of O'Fallon, Ill., has returned to Hudson for a weekend of events organized by the legion, along with the Sons of the American Legion and the Women's Auxiliary, designed to honor and remember Leonard Nute and other soldiers who also gave their lives in service.
Monday was the 42nd anniversary of Leonard Nute's death and the 42nd time Gene Nute has returned to Hudson for Memorial Day. Hundreds gathered at Library Park and the streets nearby for the day's ceremonies, including a parade, music from the American Legion and Alvirne High School marching bands, and speeches.
Gene Nute didn't just arrive Monday and act as master of ceremonies as he has for the past 19 years, though. Memorial Day for him is a weekend-long event.
On Friday, he participated in a short ceremony at Hudson Memorial School. On Saturday morning, he and other Legion members placed flags at soldiers' graves in five nearby cemeteries. On Sunday, they attended services at a local church.
"It's out of respect to the memory of my brother, among others," he said. "We're here because someone before us gave something. If they hadn't, we wouldn't be here. Plain and simple."
Gene Nute served 20 years in the Air Force, including a tour in Vietnam.
"I didn't get into too many tight spots," he said.
His brother wasn't so blessed.
Leonard Nute had 10 months left on his two-year tour after being drafted. He had been in the country for eight months, and the next day was scheduled to leave for Australia for R&R, Gene Nute said, using the military acronym for rest and recuperation.
He was at Scott Air Force Base in Illinois when his father called him with the news. He picked up his brother's body at Dover Air Force Base in Delaware a few days later.
"We took care of business first and grieved after," Gene Nute said. "It hit (my parents) real bad. They never got over it. They just never got over it."
He still carries the newspapers column announcing Leonard Nute's funeral in his wallet.
Before he died, the war had already changed Leonard Nute, Gene Nute said. He had found a certain discipline, he said, and instead of being more interested in fishing than anything, he was talking about going to school and settling down, Gene Nute said.
"He went off not knowing, and he found the real world real quick," he said.
Gene Nute said he wished all the other soldiers from New Hampshire who died in the war, more than 200, were remembered as vigorously, or as publicly, as his brother.
"The sad part of it is that there are a lot of others in the same boat," he said, rattling of the names of others from Hudson and Nashua who died in Vietnam. "It's not just my brother. They made a big deal about it. It goes back to what you've got to appreciate and why you've got it. Someone else sacrificed. No one here did this themselves."
Another of Leonard Nute's brothers, James Nute, of Merrimack, said days like Monday mean more to him as he gets older, especially after a year of reading about other young men and women dying in Iraq and Afghanistan.
"You see it every day, and when you see someone getting killed, you think about your brother," he said. "You know what they're going through, the families. I think about it more because of what's going on in our country today. It's always there."
Gene Nute said more people were interested in Memorial Day and Veterans Day during World War II, Korea and Vietnam, probably because more families had sons fighting in those wars, thanks to the draft. It's different now, he said.
"I think it's because the numbers aren't there. People, it's not a shock to them," he said. "I guess it's not as disgusting to them. Their lives are cruising along, and they're more interested in the price of gas and the economy and 'what's happening to my 401(k)?' Yes, it bothers me. But at my age and stage in life, I vote, but what can I do?"