Area residents braved cold and crowds in Washington and say it was worth it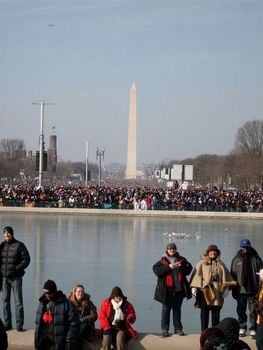 WASHINGTON, D.C. – Josh and Julie Dickerson arrived in Washington, D.C., around 6 a.m. Monday. By 3 p.m. Tuesday they were cold, hadn't slept since they arrived and were in the middle of a three-hour trek back to their hotel from the National Mall.
But all of it was worth it.
"It was definitely worth it. It was wonderful," Julie Dickerson said. "It's a turning point in history. I thought he had some strong words to people about motivation. I think that was an important message. In that moment, it wasn't just about him. It was about everybody."
The Dickerson's were part of the millions who descended on the capital to witness the historic inauguration of President Barack Obama, the country's first black commander-in-chief.
The Dickerson's watched from their seats located beyond the reflecting pool near the Andrew Jackson Memorial.
"It's really crazy," Julie Dickerson said. "There was just an incredible amount of people."
Three hours was relatively short, Julie Dickerson said, because they lucked out and were able to flag down a taxi.
Julie Dickerson, an Illinois native, has been an Obama supporter for years. Josh Dickerson, a member of the U.S. Army served two tours in Iraq.
Julie Dickerson wrote to all of New Hampshire's and Illinois' senators when her husband's enlistment was extended in 2005, clearing the way for his second deployment. It meant a lot to her, she said, that Obama was the only senator who wrote her in return.
After catching a few Zs at their hotel, the Dickersons were planning to attend the Grits and Granite Ball at Fort Mead, hosted by the New Hampshire and South Carolina Democratic committees. So was Ray Buckley, chairman of the state Democratic Party.
"It was quite emotional," Buckley said. "I think we have regained a status of respect. I think (Obama's) words today did a great deal to repair the damage of the Bush years. It wasn't just to the Americans. It was to the world."
Tuesday's was the fourth inauguration Buckley had witnessed, after attending Jimmy Carter's 1977 inauguration and Bill Clinton's in 1993 and 1997.
"It was simply inspiring, not only to the people in attendance, but I think people watching on television, too . . ." he said. "I'm just truly proud to be an American today."
Inge Pinkney and her daughter, Zaneta Pinkney, both of New Ipswich, also made the trip to attend the inauguration. Zaneta Pinkney, a 19-year-old sophomore at Boston College, was invited to the ceremonies through her participation in the Presidential Youth Inaugural Conference program.
She spent the weekend and Monday attending seminars and listening to speeches by Gen. Colin Powell and former vice president Al Gore. On Tuesday, after spending some time in the wee hours of the morning walking around the inauguration site, she ended up watching the inauguration from her hotel room 2 miles from the capital building.
"It was a long morning, and we ended up watching it inside," she said. "It was way too cold outside."
Zaneta Pinkney said she wasn't sure what to think of Obama's inaugural address yet.
"I guess it was a little bit surreal," she said. "It's so interesting to see something that my parents always told me was possible, but I had never seen before. I think I'm still getting used to it. I'm excited about the next few weeks to see how it feels to have a historic presidency."
Inge Pinkney made the eight-hour drive to the capital alone Monday.
"That particular drive was very important," she said.
Pinkney is a native of Germany. Her husband, Emanuel Pinkney Jr., was African-American and died in 2004. Watching the inauguration of a man with an African-American father and white mother was poignant for her as a mother.
"That gives children like (Zaneta) hope," she said.
She watched the ceremony from the National Mall, but she watched it on a large screen from her vantage point near the Washington Monument, she said. From there, the normally 20-30 minute trip back to Suitland, Md., took around four hours.
"We were just surrounded by people. People, people everywhere," she said.
All of the effort was worth it though, she said.
"It's just an experience, a moment," she said. "It's just amazing how far America came. It's just amazing. For the people who are able to witness that, it's a treasure. I will treasure it for the rest of my life."