Area job hunters taking their skills to the airwaves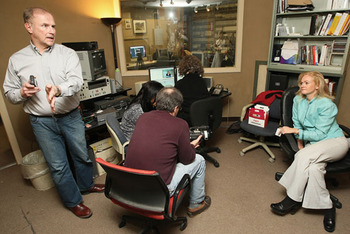 CHELMSFORD, Mass. – Kristyn Silk has mailed more than 100 resumes since she lost her job in November, but received just one call back.
The silence is not for lack of qualifications. Silk, 41, of Merrimack, spent the last 10 years climbing the corporate ladder at Fidelity, and before that worked as a paralegal. It's just that for every job she seeks, there are probably 100 other out-of-work professionals doing the same.
"If an employer is looking for someone with four hands today, they will find someone with four hands – exactly what they want," Silk said.
But, rather than sulking, Silk decided to do something to make herself stand out. She joined members of her business networking group in creating a cable-access TV show by and for the unemployed.
The New England Job Show, filmed at public access studio inside a Chelmsford middle school, is a half-hour of job-seeking tips, professional advice and discussions on unemployment issues. There are three "elevator speeches" from job hunters pitching their skills, and the show ends with a success story from someone who recently found a job.
The group finished editing the first two episodes Thursday, and is preparing to go town by town and city by city to get the show on the air in Massachusetts and New Hampshire. They're also exploring the possibility with the cable company of making the shows available on demand.
The idea for all this came from Ken Masson, of Chelmsford, a marketing professional in his 50s who was laid off Dec 1. About three weeks into his job search, Masson realized the standard search process wasn't going to be enough to garner attention in this economy.
"Week three I hit a wall," Masson said. "I said, 'This thing is bigger than me. I can't do it alone."
While watching a Fox morning talk show that featured someone who was unemployed, he got the idea. The host said to the guest, 'Maybe you'll get a job from this,' and Masson thought maybe he could do it that way, too. After reaching out to his networking group for volunteers, Masson, president of the Merrimack Valley Rotary, got the club to agree to a sponsorship. It was a good fit because one of the rotary's missions is vocational work.
So far, the rotary has spent about $100 – mostly on pizza and doughnuts. The studio space is free because Masson is a Chelmsford resident. Volunteers are running the production, marketing, scheduling and blog postings.
There are about 15 volunteers now, but the group is quickly growing because of all the media attention the show has received. Six more people called Masson Thursday to express interest in participating, following stories in the Boston Globe, the Lawrence Eagle-Tribune and Channel 7 News in Boston.
CBS is in the midst of filming a national segment.
Masson said he's also had some really exciting offers that are so new he can't talk about them yet.
The show should appeal to all kinds of job seekers.
These days, they're not hard to find. National unemployment has reached 7.6 percent. Even in New Hampshire, which still has relatively low unemployment of 5.1 percent, the rate has reached a 15-year high.
One of the show hosts is Ajita Perera, 49, of Shrewsbury, Mass., who lost her job as a marketing manager for an IT company seven months ago. She has a background in TV reporting in Sri Lanka, having been one of the first female television reporters in the early 1980s.
Other groups members include Kathy Borrelli, a therapist who lost her job as operations director of a mental health clinic, and Dan LeBlanc, who voluntarily left his sales job amid a downturn and is looking to become a project manager. He's taken on that role for the show.
In addition to helping themselves and others find work in this tough economy, several group members said they've found working on the show to be therapeutic. They're having fun and keeping themselves busy.
"None of us, as you've seen from the crew here, are depressed," Masson said. "I feel sorry for anybody who's sitting at home doing this alone."
A launch date for the show has yet to be announced, but that information will eventually be posted on the show's blog, which is updated daily.