AP: Shaheen defeats Sununu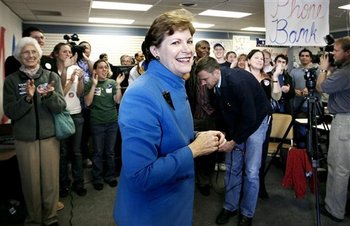 The Associated Press has called the U.S. Senate race for former Democratic N.H. Gov. Jeanne Shaheen over incumbent Republican John Sununu.
Six years ago, when Bush was still popular, Sununu defeated Shaheen by 4 percentage points. This time around, Shaheen had the twin advantages of Obama's coattails and demographic shifts that have boosted Democrats. A recent study by the University of New Hampshire estimated that about one-quarter of the electorate has changed since 2002, with both young voters and newcomers to the state more likely to identify themselves as Democrats.
On the issues, Shaheen, 61, of Madbury, pushed for making health care more accessible and affordable, ending the war in Iraq and promoting alternative energy. But she focused much of her energy on trying to link Sununu to the unpopular president.
Sununu, 44, of Waterville Valley, has cast himself as a leader on the housing crisis, the economy and the environment who has stood up to his party when necessary to protect taxpayers and civil liberties.
David Lamarre-Vincent, an independent, was still deciding between the two as he entered the voting booth in Concord Tuesday morning.
"It's a real close call for the Senate seat because in dealing with John Sununu in the last couple years, he has been accessible and a critical listener, and when he doesn't agree with you, he will just tell you in a non-hostile fashion," said Lamarre-Vincent, executive director of the New Hampshire Council of Churches. "On the war, he's voted several times in the wrong way, but he'll still talk to you."
In the presidential race, the state that gave Democrat Barack Obama his first primary setback supported him when it counted Tuesday.
The Illinois senator defeated Republican John McCain to claim New Hampshire's four electoral votes.
The call was based on an analysis of voter interviews conducted for The Associated Press by Edison Media Research and Mitofsky International and early vote returns.
Though Obama had held a solid lead in polls heading into Election Day, he had cautioned his supporters not to get cocky given that he lost the primary back in January under similar circumstances.
But this time, his organizational advantage and the Democratic Party's growing strength in New Hampshire pushed him to victory.
"I think he'll do a great deal to restore our reputation in the world," said Democrat Alasdair Drysdale, 58, a professor from Portsmouth. "He's got the best temperament, the right temperament. I like his energy, his intellect and his fundamental decency."
For McCain, it was his first loss in a state that twice had launched him toward the GOP nomination. He had been hoping that Tuesday would be a replay of this year's primary: an upset victory for him and a painful and unexpected defeat for Obama.
In the 1st Congressional District, first-term Democrat Shea-Porter was in a rematch with former Rep. Jeb Bradley, the Republican she defeated in 2006. The Iraq war was the top issue that year, and the nationwide wave of anti-Republican sentiment helped carry Shea-Porter's low-budget, grass-roots campaign to victory.
This year, the two have sparred over how to bolster the economy, fix the lending crisis and control federal budget deficits.
Bradley, 56, of Wolfeboro, has criticized Shea-Porter for voting to reverse Bush's tax cuts for upper income Americans and says any tax increase during tough economic times will further slow the economy. Shea-Porter, 55, of Rochester, favors cutting taxes for small businesses and the middle class, while eliminating tax breaks for big corporations.
In the 2nd Congressional District, first-term Democrat Paul Hodes faced political newcomer Jennifer Horn, a Republican who argued that smaller government and lower taxes are the key to economic health. Though she has worked in the health insurance and media industries, Horn, 44, of Nashua, said raising five children has provided her with all the experience she needs to understand the problems facing the nation.
Hodes, 57, of Concord, pointed to examples of how he has not only understood but solved some of those problems. He counts as his major achievements creating a commission to steer economic development and federal funding to northern New Hampshire, and Michelle's Law, which guarantees that sick college students won't lose their health insurance if they leave school to seek treatment.
In the quietest major race, Democratic Gov. John Lynch beat Republican state Sen. Joe Kenney in a landslide. Each pitched himself as best able to steer the state through tough economic times over the next two years.
Lynch, 55, of Hopkinton, points to his two terms as proof of his ability to manage state finances without an income or sales tax, and said the budget cuts he has made already show voters that he will make more as needed to keep the budget balanced.
Kenney, 48, of Wakefield, argued that Lynch has led the state on a spending spree that will transform frugal New Hampshire and force enactment of an income or sales tax.
Libertarian candidates were on the ballot in all the top races, and independent Ralph Nader was on the presidential ballot.