Anti-abortion protester calls reaction on Main Street mixed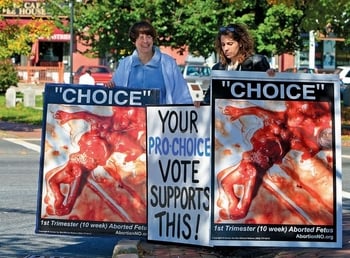 NASHUA – Reactions to an anti-abortion protest on Main Street on Tuesday were mixed, according to Darlene Marie Pawlik, president of New Hampshire Right to Life.
Pawlik was stationed on Main Street for about three hours Tuesday holding a large picture of an aborted 10-week-old fetus.
"Your pro-choice vote supports this!" read another sign.
"It was OK," Pawlik said. "As usual, it was pretty mixed. There were a lot of positive gestures and some negative gestures."
New Hampshire Right to Life is a Bedford-based anti-abortion group.
Pawlik said she stages protest like Tuesday's on a regular basis and had planned the demonstration well before hearing about the visit of Cecile Richards, president of the Planned Parenthood Action Fund.
On Saturday, Richards and a group of volunteers spent the day talking to Nashua and Manchester voters about supporting Democratic candidates in state races. Richards and the volunteers told voters about Sen. John McCain's voting record on women's reproductive rights and privacy.