Annual stroll helps Milford get in the holiday spirit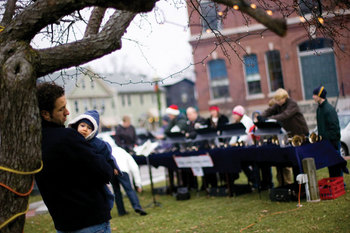 MILFORD – The town was an oasis of light, color and activity during the annual Milford Holiday Stroll on an otherwise gray Sunday.
The Oval shops shone with white Christmas lights and the Oval itself and brick Town Hall done up with ribbons and bows. Busy people shopped the stores, ate roasted chestnuts and enjoyed horse and buggy rides put on by Feel Good Farm and the Lyndeborough Livery.
For many, eating chestnuts and riding in a horse-drawn buggy were first-time experiences.
"I've never done it (a horse and buggy ride) before," Susan Smith, of Milford, said. "It was a blast. I'm glad I came down."
The buggies, decorated with bright lights, took people from the corner of Middle Street around past the Mill Apartments and back to the corner of Middle Street and the Oval.
Head buggy driver Larry Boisvert, of Feel Good Farm in Lyndeborough, said he and the other driver, Paul Martin, also of Lyndeborough, said they must have driven over 100 people all day and none of them said they had ever ridden in a horse and buggy before.
The ride cost $5, which went to benefit Downtown Ongoing Improvement Team, plus a donation for the horses.
DO-IT director Tracy Bardsley called the horse and buggy teams a "big hit."
Meanwhile on the Oval, Boy Scout Troop 22, of Amherst, roasted chestnuts and passed them out for free. Roy Degrandpre, who was helping the Scouts, said many people told him they were trying roasted chestnuts for the first time and the reviews were mostly positive – many said they tasted like french fries.
Degrandpre explained that roasters must score the chestnut's shell to help it split open. not, the pressure from the heat of the fame would cause the nut to jump.
Although the Oval appeared idyllic like a movie set or a Norman Rockwell painting, things weren't perfect. More bleak than the gray skies were the nation's economic struggles, which weighed on many strollers' minds.
"I'm going to be a little leaner this year," said Celeste Barr as she shopped with her friend, Cathy Ingram, at gift shop Alphabet Soup.
Another shopper, Betsie Sullivan, of Milford, also said her plan was to cut back on spending and to shop local. She said the economy has made her "think longer and look longer" at items.
"You can't do as much as you'd like to," Sullivan said.
There were several new businesses on the Oval this year for strollers to cruise through.
For example, zipiZape Artisans opened on Middle Street just this Wednesday. The store, owned by Denise and Jimmy Clark, carries socially conscious and environmentally friendly gifts made by people from all over the world.
For instance, the shop sells purses made of soda cans and juice boxes have been popular with teenage girls. Other gifts were colorful bowls made out of telephone wire and toy animals carved out of flip-flops that washed up on the African coast.
Another newcomer to the Oval is LA East Ink, a tattoo and body-piercing shop that opened Saturday. Owner Rock Lamontagne said since he opened, everyone has made him feel welcomed.
Although he's new to the Oval, Lamontagne is veteran tattoo artist. He has been in the tattoo business for about 31 years and said he was the first person in the state to hold a tattoo license.
As Lamontagne spoke, tattoo artist Chris Crowley was working on his wife Janet's butterfly tattoo. Janet Crowley said she had checked out the stroll before coming into LA East to get more work done.
"I love the friendliness," Janet Crowley said. "The people have been wonderful."