Annual blood drive tops goal with 700 pints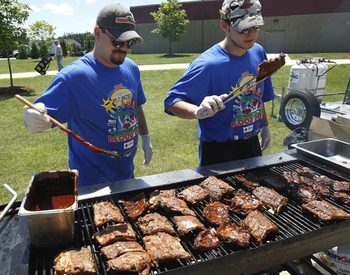 Dan Snyder's contributions were threefold for the state's biggest blood drive Wednesday: he cooked, served and, of course, donated.
"I've given blood my entire life," said Snyder, assistant kitchen manager at Nashua's Texas Roadhouse restaurant, whose brother had leukemia. "It's good to give to these things as a member of my family got so much out of it. And you get to meet so many different people from the community working at these. That's why I love it."
Snyder was one of hundreds of volunteers who were part of WZID's 13th annual "Chill and Grill Super Drive" for the American Red Cross, held Wednesday at Nashua High School South.
He spent two days preparing slow-cooked steak, chicken and ribs to provide attendees. On Wednesday, Snyder volunteered the entire day, dishing out Texas Roadhouse cuisine to hungry blood donors. Plus, he gave a pint of his own blood and signed up to become a bone marrow donor that afternoon.
By 1 p.m. Wednesday, approximately 200 donors like Snyder had already contributed to the cause. By the end of the drive at 7 p.m., the Red Cross had met its goal of 630 pints, and then some, with 700 pints being drawn from the 755 people who came to donate.
The Chill and Grill is the largest one-day blood drive the American Red Cross offers in New Hampshire, according to Thomas Houle, American Red Cross account executive for the northern New England region.
Houle said 630 pints of blood could save about 1,800 lives.
"The community blood supply is everyone's business," Houle said. "We say, 'the need is constant and the gratification is instant.' "
Chill and Grill draws so much attention, said Ed Brouder, board of directors' chairman for the Red Cross' northern New England region, that it prompts people to donate all summer long.
"A lot of people know this thing is big so they don't have time during the day to come down," Brouder said. "This reminds them to give blood."
Houle said blood contributions are tough to come by in the summertime. With high schools and colleges closed, and a lot of donors on vacation, the American Red Cross relies on events like the Chill and Grill to make up for the deficit.
Since 1997, the Chill and Grill has collected 5,403 pints of blood, according to Brouder, the Red Cross board chairman.
"We great such great support from the community," Brouder said. "You wouldn't know there's an economic problem based on the turnout of volunteers here."
Nashua North student Alex Hinckley, 16, donated a pint after finishing driver's education lessons at South. As a first-time blood donor, Hinckley wasn't sure what to expect.
"I thought you just walk in and they stick you with a needle," Hinckley said, laughing. "(The volunteers) were very helpful. They asked if I wanted a drink during the process and gave me a wet cloth for my face."
Although Hinckley was a little woozy after donating, he was still proud he did it, he said.
"I'm happy that I gave blood. I know I'll get mine back," Hinckley said.
After donors give blood, they walk away with a bundle of give-a-ways, including fruit salad cups, free T-shirts and discount coupons.
Chill and Grill sponsors include Nashua Community College, Simoniz Car Wash, Chunky's Cinema Pub, Hungry Herb's, Domino's Pizza and Chick-fil-A.
To provide the "chill" for the grill, Hayward's Ice Cream owner Chris Ordway had employees prepare 840 cups of chocolate and vanilla ice cream for blood donors.
Edible Arrangements donates 800 pounds of fruit to the Chill and Grill. Volunteer Mary Lou Dulong, whose son owns Edible Arrangements, flies up from Florida to help because she received two pints of blood for knee replacement surgery last July.
"I've always given blood, but when you are at the receiving end, you see how important it really is," Dulong said.
International Cars, Saturn of Manchester's parent company, provides blood donors an entry to win a free Saturn Outlook for a weekend and a $500 travel certificate.