Amherst says no to town, yes to schools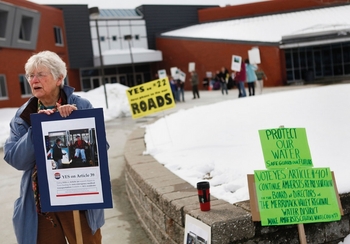 AMHERST – Voters on Tuesday defeated the town operating budget, a $6 million road bond, and an open-space purchase but were more generous with the schools, passing its operating budget, teacher contracts and a new agreement with Mont Vernon.
About 26 percent of Amherst's 8,857 registered voters participated in the election.
There were two open seats on the Board of Selectmen. Winners were incumbent Bruce Bowler with 1,133 votes and Jim O'Mara with 1,307.
Joe Esposito received 594 votes and Linda Siwik had 538.
Residents opted not to purchase the so-called Martin land, 91 acres of open space that straddles the town line with Bedford, for $1.29 million. There were 1,327 no votes and 956 yeses.
The land would have been used for conservation.
The $9.87 million operating budget, an increase of about 3 percent, failed by a vote of 1,350 to 936. It was a proposed increase of about 3 percent.
Now, officials will have to make do with the default budget, which is $9.73 million.
A 15-year, $6 million bond to repair roads failed badly, with 1,284 no votes and 1,018 yes votes. It needed a 60 percent majority to pass.
It was on the ballot because the Road Funding Analysis Committee identified 19 stretches of road that will need to be repaired. In total, 22 miles need to be fixed. Critics of the purchase said it was the wrong year to propose such a large expense because of the poor economy.
On the school side, the $23.16 million Amherst School District budget, an increase of 1.99 percent, passed 1,208 to 1,078.
The operating budget will add between about 20 cents to the tax rate, which is $9.66 per $1,000 of property valuation
A three-year collective-bargaining agreement between the school board and the Amherst Support Staff Association, passed 1,210 to 1,082.
A 10-year extension that renegotiates the deal between Amherst School Board and Mont Vernon, passed 1,361-915. Mont Vernon sends its seventh- and eighth-grade students to the Amherst Middle School.