Alaska gov. invokes Sox, says NH, her home state similar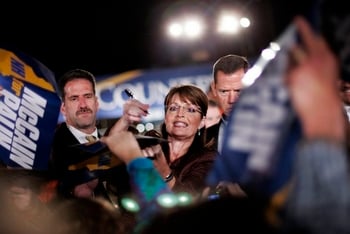 SALEM – Republican vice presidential candidate Alaska Gov. Sarah Palin called on New Hampshire voters to give John McCain the same comeback victory Nov. 4 they gave him on the road to his 2008 nomination.
"You turned the underdog to the victor then, let's do it again on Nov. 4," Palin declared Wednesday during a rally at the Weirs Beach train station overlooking scenic Lake Winnipesauke.
McCain trailed in New Hampshire for much of 2007 but pulled in front of runner-up Republican rival Mitt Romney in the weeks before the first-in-the-nation primary last January.
Palin embraced the comeback motif on a GOP ticket that in recent weeks has fallen behind Democrat Barack Obama campaign by double digits in recent polls.
"I am looking forward to watching the debate tonight right here in Red Sox Nation," Palin said.
"We are just 20 days out from the election, and we are coming right down to the wire because Red Sox fans know how to turn an underdog to a victor because that's exactly what we know what to do."
Over a jam-packed day, Palin spoke to more than 10,000 people that included a large crowd on the Salem High School football field.
>>>N.H. Campaigns 2008
Palin said she feels a kinship here as voters in both states love low taxes, personal freedom, the great outdoors, hunting moose and New Hampshire's motto, "Live Free or Die."
"You are a lot like the people of Alaska, I would have to say. You know we have got a lot in common. We both enjoy our moose hunting," said Palin who first became governor in January 2007.
Throughout the day, Palin stayed on message with a one-hour prepared speech that she dutifully read from the teleprompter at rallies in Dover, Laconia and here.
By nightfall, enthusiasm for the Republican ticket had built in intensity as Palin was repeatedly interrupted by the crowd chanting her name.
On the day of the last debate between Obama and McCain, Palin seemed to pull her punches, focusing on McCain's positive agenda on spending, taxes and energy rather than on personal attacks on Obama or running mate, Joe Biden.
"I know you people here tonight, you get it. You know the last thing we need is a tax increase, and the last thing we need in the White House is another big spender," Palin said.
During introductory remarks in Salem, Republican congressional candidate Jennifer Horn embraced the comparisons with Palin as working mothers who have had to juggle politics and home life.
"I know many of you have heard the comparisons between Gov. Palin and myself, both of us, 44-year-old women, both mothers of five coming at this politic thing outside of the establishment," Horn said.
"We both understand that government no longer works for the people quite the way our forefathers would have it. We both want to go to Washington to shake things up."
As one of the opening acts in Salem where he grew up, Sen. John E. Sununu didn't hesitate to criticize Obama.
"Who do liberals like Barack Obama put their trust in? First big government, then Bill Ayers," Sununu said, the former Weatherman Palin referred to when she accused Obama last week of "paling around with terrorists."
Palin did criticize Obama for having what she considered to be a defeatist attitude in Iraq and praised McCain's view.
"He isn't afraid to use the word victory," Palin said of McCain.
"Now our opponent who will go on and on in speech after speech about the wars we are fighting, it sure would be nice if just once he said he wants America to win."
Zandra Rice Hawkins, director of the left-leaning, Granite State Progress criticized Palin for not taking questions in a town hall setting as McCain has often done.
"Gov. Palin's visit to the state today is nothing other than a photo opportunity for the McCain campaign," Rice Hawkins said.
"If she's supposed to be ready to be a heartbeat from the presidency, she should be ready to answer questions. John McCain has spoken highly of town halls in the past, and now he won't even allow his VP choice to participate in one."
Palin declined to answer questions from the audience and only gave two interviews during the day to WMUR-TV and a reporter from the New Hampshire Union-Leader that reversed its condemnation of McCain during the 2000 campaign and endorsed him in this race.
While on WMUR, Palin dismissed the Alaska legislative probe that concluded she had not broken any laws but abused the power of her office in connection with attempts to fire her former brother-in-law from his position as a state trooper.
"It turned in to be very much partisan," Palin said even though the commission that issued its report was split evenly between the two parties.