Agency hosts social service fair to aid homeless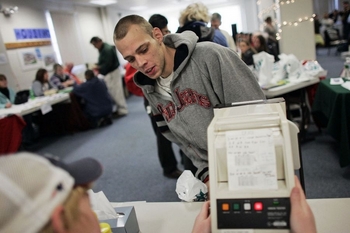 NASHUA – Frances Ocasio moved to Nashua from Chicago a month ago to take care of her elderly mother. The move cost just about everything she had, and without some of the services on display at Project Homeless Connect Day at Harbor Homes in Nashua on Wednesday, she wouldn't have a place to sleep at night.
Ocasio, 49, is staying at a homeless shelter for now and has received housing and job application help from several of the agencies with tables at the fair.
Nashua welfare officer Bob Mack described the event as a sort of "social service fair," a chance for the city's homeless population, and those at risk of being homeless, to access a wide range of health, employment and housing services in one place.
The fair is organized by the Greater Nashua Continuum of Care, a partnership of more than 30 social service agencies. It was held at Harbor Homes on High Street from noon-4 p.m. and people were lined up outside ahead of time, Mack said.
"It's convenient. It's helpful for the homeless to get services quickly," said Susan Mead, an outreach worker with the Greater Nashua Mental Health Center. "It speaks to the heart of Nashua. There's a compassionate atmosphere here."Ocasio said the fair was extremely helpful for someone in her position because so many community agencies were in one place. In fact, she got more done Wednesday than she had in the last month, she said.
"Number one, traveling is a big factor," Ocasio said. "Having them under one roof saved me a lot of footwork. For someone that's homeless and penniless something like this is wonderful."
Mack said 32 social service agencies had tables at the fair. In the main room, agencies – such as the Nashua Division of Public Health and Community Services and Marguerite's Place – had set up tables and booths advertising the services they offer. There were also tables heaped with clothes, winter coats, hats and gloves that many of the agencies had gathered to give away at the fair.
In other rooms, free services were being offered, including lunch, haircuts, flu shots, blood pressure and blood glucose screenings and eye exams.
Having so many services in one place is invaluable, according to Mike Hayward.
Hayward, 45, is an out-of-work carpenter. He's staying at a homeless shelter and decided to attend Wednesday's event after reading how many agencies would be there.
"Just having the resources at hand is really helpful," he said. "If you're unemployed and in a shelter, everything is helpful. And there (are) other people here in the same situation, so it's nice to touch base."
In addition to contacting more than 100 members of city's homeless community who attended Wednesday, touching base with one another is also a benefit to the agencies at the fair. Those agencies often refer their clients to one another, Mack said.
One of newer services at the fair this year was the United Way of New Hampshire promoting 211 NH, which makes that process easier.
Started in New Hampshire in June, 211 NH is a number that is free to call to get information about social services available in your area, according to Heather Aicholtz, the 211 NH Call Center director.
The help available covers a wide range of services, Aicholtz said, ranging from child-care referrals and thrift shops to support groups and emergency shelter options.
"They're like a virtual connect event," Mack said. "I think it's very helpful, particularly when clients come to us for a service we don't provide. Usually they come to us with multiple needs."
The line makes it easy, as Project Homeless Connect Day does for a few hours, to point people toward other agencies that can help them.
"That's very helpful," said Patti Joseph, a Marguerite's Place employee. "We also have to tap a lot of other resources. That's the avenue to do that."
The service is also available online at www.211nh.org.