After storm, some in dark over big bills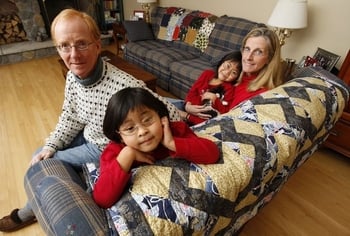 After eight days without power, Brian and Pat Lynch, of Brookline, were expecting to see a break in their electric bill for the month, a silver lining from a rather unpleasant experience.
So when they opened their Public Service of New Hampshire bill this week to find it nearly double last month's bill, they were taken aback.
"It almost gave me a heart attack," said Pat Lynch, who lives with her husband and their two children in their Pepperell Road home.
The Lynches are not alone; questions about PSNH bills for the period covering the ice storm have arise from many parts of the state.
Sue Blothenburg, spokeswoman for PSNH, said the company is aware that many of its customers are opening bills that don't reflect the actual power usage for that period.
PSNH estimates that 322,000 of its customers lost power due to the Dec. 11 ice storm. Up until then, the most customers the company had ever had offline at one point were 93,000 in 1996.Because all of its crews were out responding to the devastation caused by the ice storm and working to restore power, the company was not able to do its regular meter readings.
Blothenburg said estimated bills were sent out to keep things consistent.
"For a lot of folks, they get concerned if they don't get a bill," she said.
The bills that were sent out were based on estimates of November and December of 2007 and November of 2008, said Blothenburg. Adding to the total was that many of the bills, like the Lynch family's, was for 35 days.
Blothenburg said that when meter readings are being done in January, PSNH would subtract whatever extra customers were billed in December.
"They would only have to pay the difference," she said.
The Lynch family's bill for the period Nov. 14 to Dec. 19 was $282.47.
The family's bill last month was $159, and it was $210 for the same period last year, said Pat Lynch.
"We've never had a bill that high," she said.
The family lost power the night of the ice storm Dec. 11, and didn't get it back until Dec. 19.
Brian Lynch said that after calling PSNH, he was told to just pay the amount they were billed in November and that would be sufficient.
Blothenburg said anyone with questions about their bill is encouraged to the PSNH customer service line at 1-800-662-7764. If there is a unique situation or circumstance, PSNH will work with customers to find a solution, she said.