After much debate, Hudson to vote on kindergarten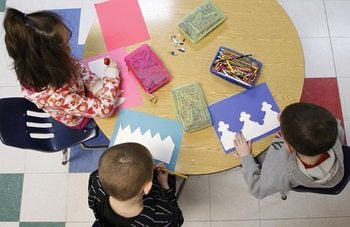 After 33 years of nourishing thousands of 5-year-old minds and souls, kindergarten owner and teacher Joan MacSweeney heard the magic words that finally got her thinking about retirement – public kindergarten is coming to town.
So MacSweeney closed her popular Sesame World kindergarten, confident that her "work here was done." After all, the state Department of Education had just passed a legislative mandate that all towns and cities have public kindergarten, so from now on, all children, no matter their families' financial situation, could go for at least a half-day.Or so she thought.
"Parents were calling me, some were crying, not knowing what they were going to do," MacSweeney said. "Everyone was scrambling for the fall."
That's because the DOE granted some towns, Hudson among them, a one-year reprieve on the mandate, giving them until the 2009-10 year to institute kindergarten.
Now, MacSweeney and a number of other kindergarten owners in the area are in the same boat: Anxiously awaiting the results of Tuesday's town election, where voters will choose whether to implement public kindergarten this coming fall.
Now that the dust has cleared, Hudson stands alone in its resistance to the state's kindergarten mandate. While officials have said repeatedly that they want public kindergarten in town, they also promise to stand firm in their belief that the state should provide more funds to lessen the burden on taxpayers.
In Milford, voters approved kindergarten last year and will now decide whether to utilize portable classrooms or build an addition to the Jacques School. Litchfield, despite finding itself in a financial bind, has put kindergarten in its 2009-10 budget.
In Salem, kindergarten funds were cut by the budget committee, but reinstated by voters at its Deliberative Session in February. Windham and Pelham have also budgeted for kindergarten for the coming school year.
Back in Hudson, the kindergarten article is one of 10 on the school portion of Tuesday's ballot – the town ballot has 18 articles. The polls are open from 7 a.m. to 8 p.m. at the Community Center on Lions Avenue. Residents will also choose candidates for several town and school offices, the most significant of which are races involving longtime incumbents for selectman and school board seats.
But it's the long-debated kindergarten article that stands high atop both the town and school ballots.
Last year, insisting that the state wasn't allowing Hudson nearly enough funding to properly implement public kindergarten, the school board filed a lawsuit that is still active.
School board and state officials essentially agree that what happens to the suit after Tuesday probably depends on the outcome of the vote. But school board chairman Dave Alukonis said recently that if kindergarten passes, the board would most likely drop the suit and concentrate on preparing for its debut in September.
But if voters say "no," Alukonis said, the suit would go forward. Up in Concord, though, things aren't as clear.
"The state hasn't made a decision on what we'll do if Hudson votes it down," deputy attorney general Anne Edwards said in February. "I'm sure we'll be discussing it as soon as we know the results of the vote."
This most recent chapter in the decade-long kindergarten skirmish got rolling in January, when longtime advocate Donna Ohanian drafted two petition articles – one calling for roughly $800,000 to implement half-day kindergarten and the other to effectively end the lawsuit – and got enough signatures to put them on the Deliberative Session warrant.
At the session, however, the school board put forth an amendment to the kindergarten article, calling for the appropriation of $1.23 million to, as Alukonis said at the time, "implement kindergarten the right way." The amendment passed a majority vote.
That set the stage for a rather robust, pre-election debate, which just last week grew quite heated when Ohanian and several other kindergarten advocates took out six good-sized display ads in the Hudson-Litchfield News skewering school and town officials on the issue.
"Fund education, not lawsuits," reads some of the ads. "It's about education, not politicians' egos," cries one.
Most conclude with "Get mad enough to vote."
Superintendent Randy Bell wasn't amused.
"I've never felt that attacking people and insulting their integrity is a good idea," he said Friday. "I don't think they did themselves any favors."
Ohanian has accused officials of "Chicken Little" tactics, saying that kindergarten could be implemented for considerably less money than $1.23 million.
"They say they don't have the space, but they do," she said, citing specifically the H.O. Smith and Library Street schools.
Bell disagrees. "That's wrong, if you want to do the program right," he said. "You can't just put a group of kids anywhere. That's not right."
Bell said he was particularly irritated by the "politicians' egos" comments in the ads.
"That really bothers me, when they say things like that," he said, adding that if kindergarten is voted down on Tuesday and the school board ends up losing their suit against the state, they'll do the right thing.
"If we lose the suit, we'll institute kindergarten. It's as simple as that," he said.
Although September is coming fast in the great scheme of planning a new, comprehensive school program, Bell says officials are nevertheless prepared if Tuesday's vote passes.
"We've been doing some groundwork for awhile now," he said. "We want to be in a position to have everything in place by the start of school.
"We'll be ready."