After long fight, it's now up to the voters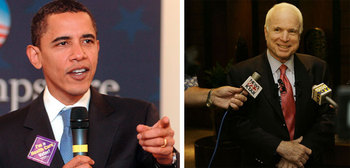 NASHUA – The long, expensive and divisive campaign season of 2008 ends as it began more than two years ago with the nation still watching closely what could happen in this small Northeastern state.
Republican presidential candidate John McCain's return Sunday revealed New Hampshire's four electoral votes could be critical as McCain tries to turn any state that was blue in 2004 to red tonight.
Polls from other battleground states suggest that to win, McCain must be able to overcome potential losses in states that went for Bush in 2004 such as Virginia and Colorado.
Major questions still remain: Will general election voters here embrace the Arizona senator as completely as Republican primary ones did in two primaries eight years apart?
We invite you to check back throughout the day and view our live video feed from various polling places throughout the region.
Or will Democrat Barack Obama be fully vindicated for his narrow, Democratic primary loss with a hard-fought win over one of the most popular Republican politicians here in recent memory?
"The thing about New Hampshire's presidential election this time is either candidate's victory will be looked on nationally as pretty special," said Andrew Smith, director of the University of New Hampshire Survey Center.
The judgment of voters today will answer these other questions with ramifications that stretch well beyond the state's confines:
Target shooting: Can either of the nation's most vulnerable incumbents on Capitol Hill from their respective parties survive a blood rematch – Republican U.S. Sen. John E. Sununu and Democratic U.S. Rep. Carol Shea-Porter?
Hard times success: Will the staggering economy propel former Democratic Gov. Jeanne Shaheen to edge Sununu and help ex-GOP Congressman Jeb Bradley to unseat Shea-Porter?
Freshmen fears: As first-time candidates for major office, will congressional candidate Jennifer Horn of Nashua and gubernatorial hopeful Joe Kenney stun observers with their showings or lose badly and thereby fade into oblivion?
Tsunami or trend: Was the 2006 Democratic rout that ran through all of state government offices an aberration or a sign that the state's political profile is changing?
Secretary of State Bill Gardner predicts a record, 750,000 will cast ballots today and that will include 40,000 he expects to register at the polls before casting a ballot.
This would shatter the record of 684,000 set in 2004.
"There's no doubt in my mind it will be more than ever before. We've seen such excitement and energy in the state going well back before the primary," Gardner said.
Gardner's prediction would represent a statewide turnout of about 81 percent.
City and town clerks across the state were making preparations for the deluge, some increasing the number of voter sign-in lines inside the polls, others setting up shuttle buses to prevent a traffic gridlock on the streets outside.
Gardner said it would take many voters longer to fill out the ballot because the Legislature eliminated the use of straight ticket voting – placing a single mark at the top of the ballot to choose all the candidates of one party.
"For those who want to vote that way, the design of the ballot makes it easy, just pick a party column and fill in the circles next to all the candidates," Gardner points out.
The state has set up a new web site to answer questions about voting rights and procedures at www.nhvotes.sos.nh.gov.
Anyone who believes his or her voting rights are being violated is urged to contact Attorney General Kelly Ayotte's toll-free hotline at 1-866-868-3703. The other number for the Concord-based office is 271-3650.
An e-mail complaint or inquiry to the same office should be sent to electionlaw@doj.nh.gov.
U.S. Attorney Tom Colantuono has also set up their own election line manned until 10 p.m. tonight at 856-1406 or sending an e-mail by clicking on the "e-mail us" link at www.usdoj.gov/usao/nh.
With some major contests closing in the final days, political observers wonder if they could be won or lost by the nitty-gritty ground game of the campaigns.
This is the tireless work of the candidate's paid staff and volunteers will make the telephone calls, ship the e-mail blast alerts, do the door-to-door checking for those who haven't yet voted today and will even drive some to the polls.
Nick Clemons managed Democrat Hillary Clinton's Democratic primary campaign that in the closing days turned an assumed defeat to a shocking, 3-point win last January.
Obama campaign aides later credited Clinton's get out the vote organization – particularly in the state's cities – with playing a critical part in the outcome.
"In the end, the ground game will get you 2 to 3 points," Clemons said.
This time, Colin Van Ostern is managing the Democratic Party's coordinated campaign.
Van Ostern said he's got 5,621 working for him or more than twice the number of ground troops in 2004.
"The level of volunteer support we have is truly phenomenal," Van Ostern said.
The McCain campaign set its own record in this organizational arena, according to Jeff Grappone, McCain's New England communications director.
"We have had three and a half times the number of voter contacts this time than President Bush had here in 2004," Grappone observed.
In this election cycle, candidates are making much greater use the Internet to build, hone and stroke a political organization that can drive out voters with social-networking Web sites such as Facebook and MySpace.
"There is nothing like direct, person to person contact with voters but the Internet can be a pivotal place where you can identify what the interests of voters are," Clemons added.
"You can do more targeted outreach to like-minded people."