After 61 years, luggage shop to close doors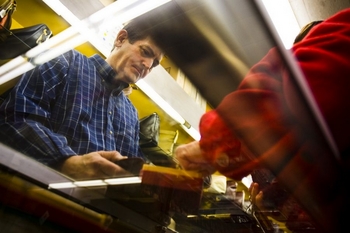 Lorraine Charland and Hugh Moran each bought something small – a wallet for Charland, a coin holder for Moran. But the loss the two senior citizens felt this day loomed large. "It's terrible," Charland said, "This is one of the few stores left on Main Street."
"What a shame," Moran said, sadly shaking his head.
After the holiday season, Jordan's Luggage Shop at 91 Main St. in Nashua will close forever, writing the last chapter of a 61-year downtown institution.
The good news is that this isn't a forced closure, said Alan Cohen, who has been managing his father's store since the middle of May and shepherding its final weeks.
The business still turns a profit and would be viable if it were kept open, he said.
However, the store's founder and namesake, Jordan Cohen, 84, has retired, his son said.
"My father's health prohibits him from taking an active role in it," Alan Cohen said. "A lot of people have come in and inquired about his health and wished him well. I really appreciate it."
Neither Cohen nor his brother and sister can take over the management of the luggage shop, he said.
Alan Cohen, 59, lives in Concord and had worked in retail for 35 years before pursuing other business interests.
It's telling that when he left retail, his daughter remarked that she had never seen him happier or more relaxed, Cohen said.The departure of Jordan's will hit its longtime customers hard.
Charland figures that she's shopped at Jordan's "at least once a year" since she moved to Nashua from Montreal in 1965. She sees the closure as another downtown loss. She worries that soon the only places left to shop will be the Pheasant Lane or Nashua malls.
"We didn't normally buy big stuff," Moran said.
But he figured he and his wife shopped at Jordan's once or twice a year throughout the 35 years they've lived in Nashua. They particularly liked the quality of the merchandise sold there, Moran said.
On Thursday, several weeks into its closeout sale, the store was still stocked with merchandise.
"We have a lot of inventory. My father loved to buy," Alan Cohen said.
Besides luggage, that inventory included garment bags, carriers, shaving kits, briefcases, wallets, purses, umbrellas, wooden jewel cases, steins, plates, figurines and even a chess board set, among other items.
Though the sale has been going on for a while, signs were placed on the shop's windows Tuesday announcing that it will be closing.
Jordan Cohen opened the business after World War II. Originally, the luggage shop shared building space with a couple of other businesses. But Cohen soon bought the entire building, moving his luggage shop briefly to Factory Street while the building was remodeled.
Ever since, Jordan's has been the sole retail shop in a building with 60 feet of Main Street frontage, Alan Cohen said.
The family at first tried to sell the building and business as a package. But getting started in the luggage business would be difficult, especially considering the economy and that five luggage stores in Massachusetts have closed since the first of the year, Cohen said.
Cohen worried that if the business were sold to someone without experience in luggage retail, the buyer would be set up for failure, and he would feel responsible.
"We like to sleep at night," he said.
While the inventory is being sold off, the building itself generated a lot of interest from the time it was put on the market, Cohen said. It's now under a sales agreement, though Cohen declined to name the potential buyer until the deal is closed.
A tentative closing date on the sale has been set for Jan. 31, he said.
In the meantime, Jordan's will continue its closeout sale and stay open for holiday shoppers.
"I have mixed feelings," Cohen said. "The retail business has been good to the family. But the time has come to close it."