After 50 years, legend of discount store lives on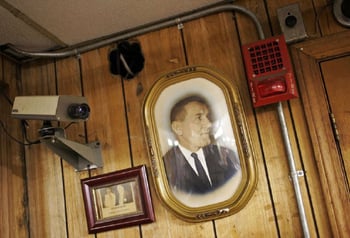 Hands crammed in his jean pockets and with a slight shuffle in his step, Jack Zyla led the way.
Zyla passed through an old wooden door, through a dim, chilly annex, and then, there it was. The old auction hall.
It's an expansive place, with a rounded ceiling and rows and rows of barren metal shelves.
It doesn't look like much now. In part, that's due to the fact that Zyla's building and discount store is up for sale after 50 years of operation.
As he glanced around, Zyla, who's worked for the family business since he was five, remembered when this place really mattered. When it practically had a life of its own.
Back in the late 1950s, Zyla's father, John Zyla, bought an auction barn at 526 Daniel Webster Highway in Merrimack. A couple years later, it burned down. He started over, building from scratch.
A main retail sales area was eventually expanded to include the new auction hall. It's where John Zyla's main sales philosophy, "lose a little, sell a lot," came into play, his son said. The idea was to "sell stuff cheap," not taking the highest bidder for items, but taking a little – $1, $2, $3 for an item, maybe – and selling them off in large quantities.
The idea caught on, Zyla said. For the 1960s and much of the 1970s, it wasn't rare to have 1,000 people crammed into the seats at a Zyla's auction.
"It was very busy," said Maria Jordan of Merrimack, who ran a cash register at Zyla's for 30 years until she retired in May at age 81. "You couldn't even go in the ladies room sometimes it was so busy!"
Bernie Thibeault, a 76-year-old Merrimack resident, remembers that when she and her husband, George, moved to town in 1969, Zyla's was having "auctions galore."
"We went by one day, and it seemed like there was a lot of cars in the parking lot and lights," Thibeault recalled. "I said, 'Something's going on.' "
The couple went in and ended up with a wheelbarrow. It cost them $3.
"Wouldn't believe it: we still have it," Thibeault said with a laugh. "George has had to change the tire more than once."
Zyla's has always been a family operation, starting with John and Kay Zyla, whose sons Gary and Jack inherited the business in 1991. Several of their children worked there over the years, too.
Zyla's has also been a launch pad for many of the town's teenagers. As Jack Zyla's wife, Dottie, put it, "Every kid in the town of Merrimack worked here at some point."
That would include Laurie (Goodridge) Rothhaus, who grew up in Merrimack with her nine brothers and sisters.
"All 10 of us worked there," she said, as did her own three children. "It was a great tradition because they got to feel a little bit of the history."
Most teens in the 1960s and 70s served as "runners" who delivered items to bidders at the auctions. Rothhaus remembered that at least 20 runners would line up, grab the goods, speed them to their new owners and quickly make change.
Some customers, she said, would pounce on runners as they went by if a desired item was about to run out.
"We'd go back in line and say, 'Stay away from row two: that lady's going to grab you!'" Rothhaus said with a laugh.
At some point, Jack Zyla said, it got to be too much. The auctions ended.
Things have been steady for a long time. Zyla's kept afloat on its discount retail sales and with its wholesale business.
Town Council Chairman Tom Mahon said he appreciated the quirky aspects of Zyla's.
"Our favorite aspect of it was the 25 cent table," Mahon said. "You could find all kinds of crazy things on the 25 cent table. Old rolls of electrical tape. I got paste-on letters for my model railroad. All kinds of neat things. It was a great place to go shopping for stocking stuffers for Christmas."
Several people who posted on The Telegraph's Web site recalled buying many treasured items at Zyla's. Their first puppy. Their first fishing pole.
Zyla himself remembers all the crazes. Hula-Hoops. The Whammo Superball. Cabbage Patch Kids. Furbies.
He also can't forget some of the weirder items.
There was the "de-skidder" from the 1960s, an sand-holding apparatus that fit on a vehicle's undercarriage. One would somehow pull a lever inside, releasing the sand. It was designed for increased traction.
Then there's the doll that was modeled after Bill Clinton, called "C'More Bunz." You press a little bauble, and his pants fall down, revealing his backside.
"That's one thing I wish I'd done," Zyla said. "Start a 'Closeout Hall of Fame.'"
Along that line, Zyla's was named New Hampshire Magazine's Awarded "best place to buy stuff you don't need" in 2000.
Zyla has come around to considering that a compliment.
But in the last year, the economic downturn has hit Zyla's hard. Zyla has never used a computer in the store and keeps individual wholesale client books on a shelf in his office.
He grabbed one. "We have 50 of these books," he said. "There aren't five that are still in business."
The building is huge, so taxes are steep and so is the upkeep. In addition, Zyla said, his brother, Gary, thought it was time to sell. "We never made a lot of money," Zyla said. "We kept our prices low . . . Before, you could come in here and find almost anything, and you know you'd get a good price and couldn't go somewhere else to get it cheaper. I guess we built some trust up over the years."
According to several people who know the Zyla family, it did more than that.
Rothhaus said the Zylas cared about people who worked for them. They also did nice things for customers, such as putting an extra few items in bags around Christmastime, without wanting any recognition for it.
"They've just been, I think, a cement post," Rothhaus said. "They've just been a foundation. People could always count on them. They were always willing to pitch in and do whatever they needed to make Merrimack a better place to live."
Others agree that Zyla's and Merrimack "go hand in hand."
"The other side of it was their commitment to community and their willingness to share and contribute to the needs of some people who could use the help," Mahon said. "From a personal standpoint and a business standpoint, they were exceptionally good neighbors."
The Zyla's plan to sell all of their inventory before leaving the building, which is up for sale at $2.99 million. Retirement plans are sketchy, but may include assisting their daughter and son-in-law at their new store just down the street.
Others say they will definitely miss Zyla's. Thibeault, who ended up working at the store for 20 years after buying the wheelbarrow in 1969, said she planned to keep the item in good working condition.
"We'll have to keep it surviving," she said. "It's quite a souvenir."